Banana, pineapple prices to soar following typhoon
Fruit prices, affected by a recent typhoon, have more doubled, with no end in sight, bringing one township that was spared the brunt of the storm enormous profits.
Typhoon Nepartak, which hit on July 8 with winds up to 205kph and dumped 40mm of rain in the southern counties, destroyed many crops.
The ensuing supply disruption has meant that prices of several fruits have risen dramatically, with the wholesale price of bananas having increased from NT$10 to NT$40 per kilogram, papayas from NT$40 to NT$50 per kilogram and pineapples to more than NT$50 per kilogram.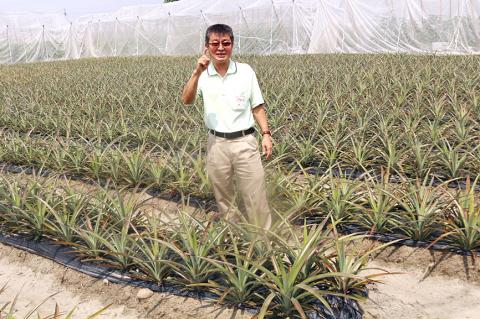 A farmer poses for a photograph in a pineapple field on Saturday in Yunlin County.
Photo: Chan Shih-hung, Taipei Times
Yunlin County's Linnei Township (林內) was spared by the typhoon and has profited from filling a supply gap.
"This time last year the wholesale price of papayas per kilogram was less than NT$20, but this year it is more than NT$20. I have even seen some sold for as high as NT$50 — the highest price I have seen in 10 years," Linnei Farmers' Association secretary general Huang Kuo-chou (黃國洲) said.
"Generally, as we enter summer papaya prices trend lower, but this year, due to the impact of Nepartak on farming in Taitung and Pingtung counties, the price of papayas has remained high," Huang added.
Association promotions chief Chen Chun-chi (陳俊吉) said that the recent heat wave that has seen temperatures rise to more than 35?C has affected the pollination of papaya plants, resulting in malformed fruit.
Temperatures inside the netted rooms farmers use to protect the fruit from insects can get even higher, exacerbating the situation, Chen added.
Farmers are predicting that the growing season for papayas will end in October or November this year, with total production at half the normal annual levels.
An end to high prices for the fruit, they say, is not in sight.
"Banana prices, which only two weeks ago had reached a low of NT$10, have also been influenced by the destruction of crops and have bounced back to NT$40. Farmers in Linnei were spared by the typhoon and have been able to profit from this opportune change in supply," Huang said.
Pineapple crops, which were also spared, have fetched as high as NT$56 per kilogram in Taipei's wholesale market, up from NT$20 to NT$30 for the same period last year.
Comments will be moderated. Keep comments relevant to the article. Remarks containing abusive and obscene language, personal attacks of any kind or promotion will be removed and the user banned. Final decision will be at the discretion of the Taipei Times.