Minister apologizes to fishing boat captain's family
STEP DOWN: The Huang family has refused an apology from the minister of defense, who said that he would resign to regain trust and respect for the military
Minister of National Defense Feng Shih-kuan (馮世寬) yesterday apologized to the family of the captain of a fishing boat who was killed after the navy fired a supersonic anti-ship missile by mistake and hit the vessel that was operating in waters off Penghu.
Feng traveled to Kaohsiung to offer the apology in person to the family of Huang Wen-chung (黃文忠) at their home.
He promised to help them receive state compensation and repair the damaged fishing boat, which was towed to Kaohsiung.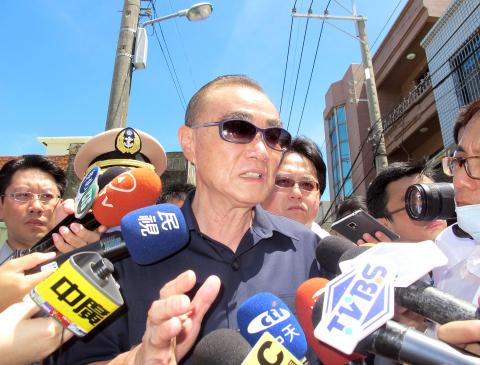 Minister of National Defense Feng Shih-kuan yesterday talks to the media about a visit to the family of the captain that was killed when his fishing boat was accidentally hit by a missile on Friday.
Photo: CNA
Accompanied by Navy Commander Admiral Huang Shu-kuang (黃曙光), Feng also vowed to improve discipline in the military.
The locally developed Hsiung Feng III missile was accidentally launched from one of the navy's 500-tonne Chinchiang-class corvettes at Zuoying Military Harbor in Kaohsiung during a drill at 8:15am on Friday and hit the fishing boat about two minutes later, the navy said.
The Ministry of National Defense said that the missile ripped through the Hsiang Li Sheng (翔利昇) fishing boat, causing the death of the captain and injuring three crew members on board.
The ministry has issued an apology and has said the incident was due to human error.
A petty officer on board the navy vessel did not follow standard operating procedure and launched the missile during a simulated attack, the ministry said.
The military did not provide immediate assistance after the missile was launched, the Huang family said, adding that the captain's son, who was also a crew member on the boat, had to make an emergency call for help before the coast guard came to their rescue.
Feng said that the military took several response measures shortly after the incident, including sending military vessels to the area where the missile plunged into the water on a search-and-rescue mission.
The military's efforts were supported by the coast guard, he added.
Despite repeated apologies from the minister, the Huang family did not accept the apology and have rejected the consolation money offered by Feng.
Speaking to the media outside the Huang residence, Feng said the ministry would have to reform to regain trust and respect, adding that it would not be a problem if he were asked to step down.
The fishing boat was about 40 nautical miles (74km) from the military harbor. A chart provided by the navy shows that the simulated position targeted by the missile was northwest of the harbor and southeast of Penghu, in the Taiwan Strait.
Additional reporting by Loa Iok-sin
Comments will be moderated. Keep comments relevant to the article. Remarks containing abusive and obscene language, personal attacks of any kind or promotion will be removed and the user banned. Final decision will be at the discretion of the Taipei Times.