FOREIGN AFFAIRS: Tsai to chase 'new southward policy'
President-elect Tsai Ing-wen (蔡英文) is to pursue a "new southward policy" to make a breakthrough in the nation's diplomatic situation by pushing for international cooperation in humanitarian aid and disease prevention, branding Taiwan as a responsible key partner in the international community, according to a proposed foreign policy blueprint.
Tsai first presented her diplomatic policy platform at a reception with foreign ambassadors and representatives in Taiwan last year, at the time saying that maintaining peaceful international relations is a responsibility that all nations should share collectively.
Taiwan should maintain a strong and vivid international presence to keep the nation safe and promote diversity in trade, she added.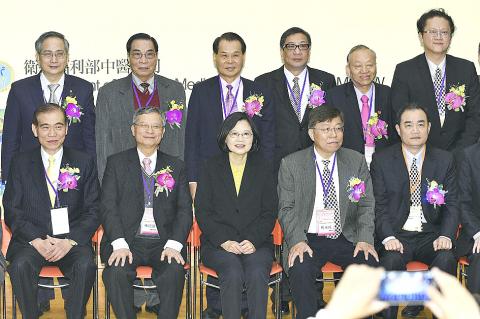 President-elect Tsai Ing-wen, front center, sits for a group photo at the 2016 Taiwan Traditional Chinese Medicine Clinical Congress at the New Taipei City Government Hall in New Taipei City's Banciao District yesterday.
Photo: Chen Chih-chu, Taipei Times
Wu Chih-chung (吳志中), an associate professor of political science at Soochow University who headed a subgroup for foreign relations in a Democratic Progressive Party (DPP) think tank, on Saturday said that the foreign policy platform Tsai proposed during campaigning ahead of January's elections — including maintaining peace and stability in the region, improving partnerships with diplomatic allies and reinforcing the nation's international presence with the new southward policy — should be in line with expectations that the international society has of a DPP government.
To maintain "sustainable partnerships" with diplomatic allies, Tsai has said that the DPP government would actively interact with them through mutual cooperation between government, businesses and civic groups, aimed at deepening relationships.
At the same time, the DPP government would seek to bolster economic and cultural ties with the US and Japan based on principles of mutual trust, respect and communication.
Tsai said that she would seek to protect national interests by engaging in meaningful dialogue on regional economic integration and security with the US and Japan.
As for Europe, the DPP would seek to explore cooperative relationships in the areas of innovation, high-tech, "green" energy, as well as interacting through exchanges between young people and non-governmental organizations (NGO), she said.
For the new southward policy, the government would create a special taskforce to boost economic and cultural exchanges with Southeast Asian nations and India, as well as "citizen diplomacy," she said.
At the same time, the Executive Yuan would create offices aimed at dealing with economic and trade talks, including the Trans-Pacific Partnership trade pact, the president-elect said.
In addition, the DPP government would push to create an international NGO center, making Taiwan a leader in supporting NGO operations and supporting progressive ideologies and values in the Asia-Pacific region.
Comments will be moderated. Keep comments relevant to the article. Remarks containing abusive and obscene language, personal attacks of any kind or promotion will be removed and the user banned. Final decision will be at the discretion of the Taipei Times.