Premier lauds online traffic forecasts created by National Freeway Bureau
Premier Simon Chang (張善政) yesterday visited the National Freeway Bureau and praised its initiative to offer travelers an online forecast of traffic conditions, saying that the measure would be an immeasurable boon for the Lunar New Year holiday.
Over the nine-day holiday there might be a critical level of traffic on highways due to good weather forecasts, Chang said, adding that he paid the bureau a visit to not only inquire on the measure, but also to deliver holiday bonuses.
In the past, the bureau only provided up-to-date traffic reports, but Chang had suggested that the bureau create forecasts of traffic conditions as far as two days in advance, the bureau said.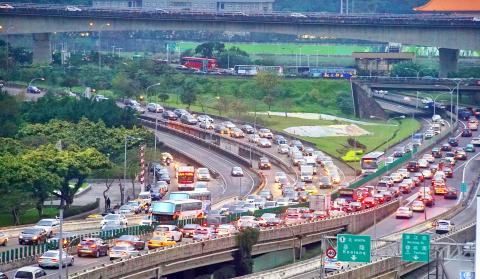 Vehicles pack a freeway approach in Taipei yesterday as people begin trips for the Lunar New Year holiday.
Photo: CNA
The premier praised the bureau's efficiency in setting up the new system, saying that providing travelers with traffic forecasts in advance would allow them to better plan their travel itineraries.
Aside from online forecasts available on its Web site, the bureau also created a mobile app, National Freeway Bureau 1968 (高公局1968). However, it said that the app would only provide updates on traffic conditions in and around Taipei, Taichung and on the Chiang Wei-shui Memorial Freeway (Freeway No. 5).
Chang instructed the bureau to refine the app to report updated traffic conditions nationwide.
Peak traffic is forecast to manifest on Tuesday and Friday next week, bureau Director Chen Yen-po (陳彥伯) said, adding that southbound traffic will probably be most congested on Tuesday, with about 1.65 million vehicles on freeways.
The bureau estimated the same amount of vehicles traveling north on Thursday next week, Chen said, adding that the highest peak average would be about 3.1 million to 3.3 million vehicles on Wednesday next week.
Meanwhile, Chang said he instructed the National Highway Police Bureau to be on heightened alert during the Lunar New Year holiday, anticipating the need for fast response times in the event of accidents.
Comments will be moderated. Keep comments relevant to the article. Remarks containing abusive and obscene language, personal attacks of any kind or promotion will be removed and the user banned. Final decision will be at the discretion of the Taipei Times.