Ministry, NIA blasted for 'lapse in national security'
Loose regulations governing customs, immigration, quarantine and security (CIQS) procedures for yachts have proven to be a security liability, the Taiwan Solidarity Union (TSU) said yesterday.
TSU caucus convener Lai Chen-chang (賴振昌) criticized the Ministry of Transportation and Communications and the National Immigration Agency (NIA) for dereliction of duty, citing a discrepancy in immigration data from both agencies.
The ministry data showed 97 foreign yachts entered Taiwanese ports from the start of 2014 to the end of last year, Lai said, adding that the NIA data showed 210 vessels, carrying 1,347 individuals, entered the nation.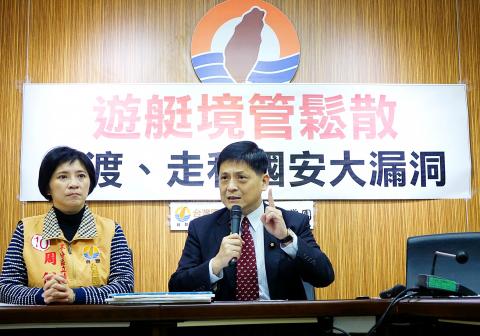 Taiwan Solidarity Union (TSU) caucus whip Lai Chen-chang, center, and TSU Legislator Chou Ni-an yesterday hold a press conference at the Legislative Yuan to highlight the flawed management of foreign yachts.
Photo: Chang Chia-ming, Taipei Times
Lai said that he did not understand how data on the same matter from two separate agencies could show such a large discrepancy, adding that both organizations were suspected of dereliction of duty.
Citing a sailing competition held in June last year between Taiwan and China, Lai said that the NIA had not recorded the entry of hundreds of Chinese participants, adding that during that time, the nation's borders were essentially open to foreigners to come and go as they please.
With the Islamic State group being so active, it is difficult to say whether terrorists could enter the nation through such loopholes, Lai said, adding that the ministry and agency were unable to secure the nation's borders.
It is a severe lapse in national security, Lai said.
Meanwhile, TSU Legislator Chou Ni-an (周倪安) also said that the government was unable to keep track of its policies and caused security loopholes.
The Council of Agriculture announced in 2013 that the Wushih Harbor (烏石) in Yilan County would become a viable harbor for yachts, but the Coast Guard Administration (CGA) has yet to list the harbor as permissible for yacht s to moor there.
Chou said that the NIA was absent in many rural ports and had to commission private companies to collect passports of foreigners entering Taiwan before sending them to the agency for stamping.
The practice contravenes CIQS procedures, which mandate the agency to be on-site at all ports to inspect passports of foreigners entering the nation and the CGA to be present as well to inspect ships and their personnel, Chou said.
Chou said that as international law now permits the carrying of weapons on boats sailing in international waters, if terrorists should exploit this loophole and enter Taiwan it would be a catastrophe.
The government should set up a single channel under which all yacht arrivals and departures should be handled, Chou said.
Comments will be moderated. Keep comments relevant to the article. Remarks containing abusive and obscene language, personal attacks of any kind or promotion will be removed and the user banned. Final decision will be at the discretion of the Taipei Times.