Belated military funeral held for former AIT head
A funeral with full military honors was held on Monday at Arlington National Cemetery in Washington for former American Institute in Taiwan (AIT) chairman Nat Bellocchi, who died in November last year.
Before entering the US diplomatic service in 1955, Bellocchi served as a first lieutenant in the Korean War and then attended Georgetown University.
The ceremony, delayed because of the long waiting list at the cemetery for full-honor ceremonies, included a horse-drawn carriage with caisson, a US Army marching band, a bugler playing Taps and a 21-gun salute.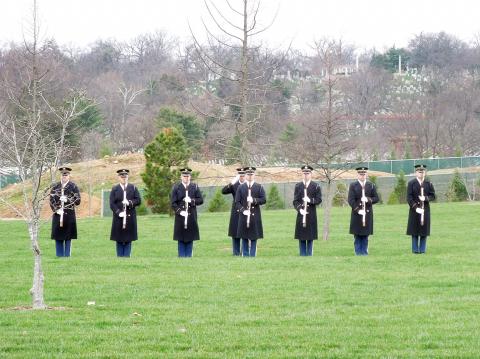 A platoon prepares to give a 21-gun salute during a military funeral at Arlington National Cemetery in Virginia on Monday for former American Institute in Taiwan chairman Nat Bellocchi, who died in November last year.
Photo courtesy of the Taiwan Communique
Bellocchi served as AIT chairman from 1990 to 1995, and his term included two major events in Taiwan-US relations.
In May 1994, then-president Lee Teng-hui (李登輝) made a stopover in Honolulu and the US government refused to allow him to leave a military airfield for a meeting with the local community, angering Lee and members of US Congress, who later pressured the White House to allow Lee to visit his alma mater, Cornell University in New York state.
Bellocchi was the highest-ranking US official to welcome Lee to Cornell in June 1995, but Beijing used the visit — as well as Taiwan's first democratic presidential elections scheduled for the following year — to ratchet up tensions in the Taiwan Strait with missile tests that summer.
Following his retirement in December 1995, Bellocchi served as a special adviser to the Liberty Times Group and wrote many opinion pieces for the Taipei Times and its sister newspaper, the Chinese-language Liberty Times.
Comments will be moderated. Keep comments relevant to the article. Remarks containing abusive and obscene language, personal attacks of any kind or promotion will be removed and the user banned. Final decision will be at the discretion of the Taipei Times.