New Power Party finalizes candidate order
The New Power Party (NPP) yesterday announced the final order of its legislator-at-large candidates, with Amis activist Kawlo Iyun Pacidal heading the party's list.
Kawlo was followed on the list by Soochow University political science professor Hsu Yung-ming (徐永明); National Taiwan University economics professor Jang Show-ling (鄭秀玲); lawyer Ko Shao-chen (柯劭臻); Hondao Senior Citizens' Welfare Foundation chief executive Doris Lin (林依瑩); and film director Ko I-chen (柯一正).
The order was determined based on the results of an online survey of party members and supporters, followed by adjustments by the party's executive committee.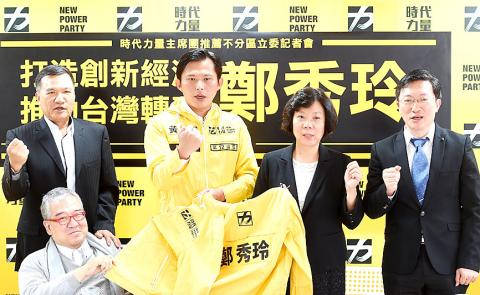 New Power Party Chairman Huang Kuo-chang, center, voices his support for National Taiwan University economics professor Jang Show-ling, second right, as one of the party's legislator-at-large candidates.
Photo: Chu Pei-hsiung, Taipei Times
NPP Secretary-General Chen Hui-min (陳惠敏) said that Ko Shao-chen — who withdrew from a Taichung district race last week — had originally ranked second in the online poll, but chose to "make way" (禮讓) for Kawlo and Jang after a two-hour meeting.
Kawlo — who originally placed third in the online vote — was then moved to first place to abide by constitutional requirements that women comprise no less than half of a party's legislators-at-large, Chen said.
Party officials had previously urged members and supporters to back Kawlo, and Chen said the adjusted list was intended to highlight the party's economic policy and advocacy for Aboriginal rights.
Ko Shao-chen declined to respond to questions regarding why she chose to yield her position.
Hsu was the only other party official on the list, after also withdrawing from a Taichung legislative district race earlier this year.
The NPP said 430 party members and 1,623 supporters voted on the candidates' ranking.
Supporters register with the party, but are not required to pay membership dues.
The party's support in most polls has hovered at above 5 percent, the threshold for being awarded seats for legislators-at-large. Surpassing the threshold would automatically entitle the party to two legislator-at-large seats.
Comments will be moderated. Keep comments relevant to the article. Remarks containing abusive and obscene language, personal attacks of any kind or promotion will be removed and the user banned. Final decision will be at the discretion of the Taipei Times.