Pingtung banks on butterfly migration
TOURIST SPECTACLE: Pingtung County aims to capitalize on the annual migration of striped blue crow butterflies this year by holding companion events
The appearance of striped blue crow butterflies in Pingtung County's Maolin National Scenic Area heralds the onset of fall each year.
Millions of the butterflies migrate to Maolin to spend the winter, where they can be seen flying through the valleys in the area, which is a spectacular sight on a par with the migration of the monarch butterfly in South America, the area's administrative office said.
The striped blue crow butterflies usually begin leaving the Maolin area after the Tomb Sweeping Festival and fly northwards to Miaoli County and the Jhunan District (竹南) of Hsinchu City, the office said.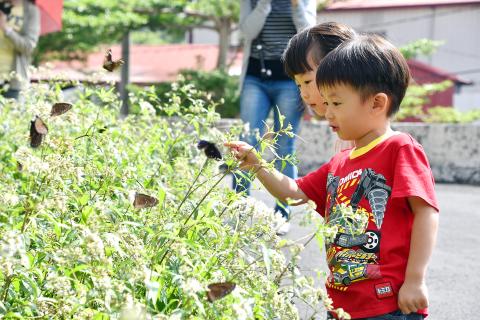 A child points at a butterfly in Pingtung County's Maolin National Scenic Area on Saturday.
Photo: Su Fu-nan, Taipei Times
However, due to a dry spell last year in southern Taiwan, the butterflies left the Maolin area in February and March, the office said, adding that it was a relief to see that the butterflies have returned to Maolin on schedule.
Local farmer Lu Chiu-hsing (盧秋星) said that since he stopped spraying his mango orchard with pesticides, the butterflies have returned to the orchard.
Lu said he joined the Tse Xin Organic Agriculture Foundation four years ago and has since adopted organic methods to tend his orchard, adding that the butterflies have visited his orchards for the past four years without fail.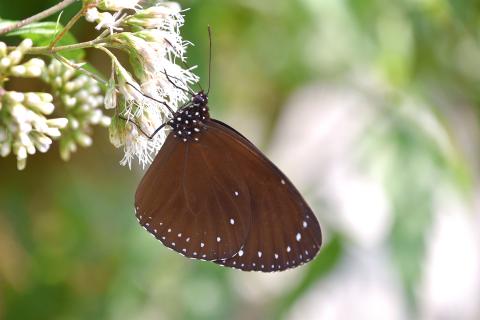 A striped blue crow butterfly rests on a flower in Pingtung County's Maolin National Scenic Area on Saturday.
Photo: Su Fu-nan, Taipei Times
Foundation chief executive officer Su Mu-jung (蘇慕容) said that the organization had been campaigning for farmers in the region to stop using pesticides and take up organic farming, adding that the foundation has persuaded 14 farmers, including Lu, in farms that cover 21 hectares out of a total of about 55 hectares in the area.
Su said that the foundation would like to persuade another 30 farmers to join its cause.
Maolin Scenic Area director Chien Ching-fa (簡慶發) said that the office is looking to promote the harvest festival of Tapakadrawane Village in the Maolin area, which is set to begin on Sunday.
A cycling event is planned for January next year and public transportation would be provided for cyclists and other tourists to and from the New Zuoying High-Speed Rail Station in Kaohsiung, Chien said.
Comments will be moderated. Keep comments relevant to the article. Remarks containing abusive and obscene language, personal attacks of any kind or promotion will be removed and the user banned. Final decision will be at the discretion of the Taipei Times.