FEATURE: Baseball artist's can-do attitude a hit
INSIDER: Chung Meng-shun's comic book 'Violent Baseball' was based on match-fixing that he heard of or witnessed during the period he worked for the CPBL
Despite a lack of experience, one man is credited with developing the images and icons that represent the nation's top-flight baseball competition.
Manga artist Chung Meng-shun (鍾孟舜) 25 years ago produced in a four-year period all the commercial art designs for the Chinese Professional Baseball League (CPBL), as well as mascots, logos and promotional materials for its four founding teams.
Before becoming a manga artist with multiple publications under his belt and Comic Artist Labor Union president, Chung had already put his stamp on Taiwanese baseball and cartoon history by creating the iconic logos of the then-Chinatrust Brother Elephants, the Uni-President Lions, and the now-defunct Mercuries Tigers and Wei Chuan Dragons.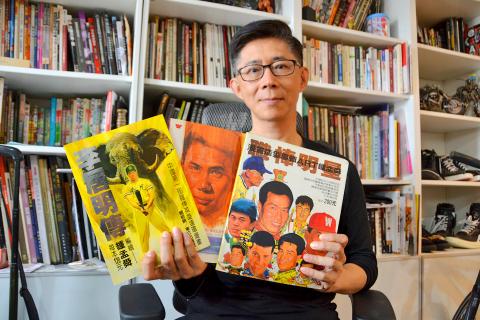 Manga artist Chung Meng-shun holds up examples of his work in Taipei on Sunday.
Photo: Wu Po-hsuan, Taipei Times
Unique circumstances made him the CPBL's de facto general director of art, Chung said.
In 1989, Chung left the army equipped with a Taiwan University of Art bachelor's degree in traditional Chinese painting and a passion for manga, but no formal training in commercial design or cartoons.
He decided to give the CPBL a try simply because its preparatory office was hiring artists.
Brother Hotel Inc chairman Hung Tung-sheng (洪騰勝), who was emerging as a key figure in the CPBL, took a personal interest in Chung's work and put Chung on every design-related project within the league, including making logos, mascots and posters for the teams, Chung said.
Chung said that in the following four years he served as the CPBL's "first and only art director," working simultaneously for all four teams.
Chung's job description was all-encompassing. At one point, he was even asked to put together cheerleading squads, he said.
Even the championship trophy for the first CPBL season was his design, Chung said.
"Actually, in the first six months prior to the league's first official game, I had to role-play being a spectator and watched 'games' all day long," he said.
"My butt hurt plenty," he added.
Chung designed cartoon baseball cards featuring individual players, drawing caricatures of noted baseballers, as well as writing a book, Baseball Stars: A Concept Art Special Edition (職棒明星漫畫造型-鍾孟舜專輯).
The players for whom he designed cards included luminaries such as pitcher Chen "Holiday Flycutter" Yi-hsin (陳義信), who earned the nickname for his skills and because the Elephants fielded him in games on holidays; leading base-stealer and later Brother Elephants skipper Lin "Commander Stealer" Yi-tseng (林易增); and Lee "Mister Baseball" Chu-ming (李居明), a famed hitter and center fielder who was a stalwart of the national team.
Chung said his experiences with the CPBL provided him with plenty of material for comic books after he left the league.
Chung's comic book Violent Baseball (暴力棒球) was based on match-fixing that he heard of or witnessed during his time in the league, with mobsters telling players to throw games with threats against life and limb.
Controversial at the time, Chung was vindicated when baseball scandals became public knowledge years later.
"I had so much fun," Chung said of his four years in the CPBL.
"Every trick of the trade I know, I learned on the job," he said.
"I didn't know anything at the time, but I caught a big break by never saying: 'I don't know how' when I faced a challenge," Chung said.
"Experience is not important; what you do not know, you can ask," he added. "Anything is possible if you try."
Comments will be moderated. Keep comments relevant to the article. Remarks containing abusive and obscene language, personal attacks of any kind or promotion will be removed and the user banned. Final decision will be at the discretion of the Taipei Times.