INTERVIEW: Chu says he had to run for president 'for democracy'
By Wang Yu-chung, Peng Hsien-chun, Liu Li-jen, Jonathan Chin and / Staff reporters, with staff writers
Saying that his decision to accept the nomination as the Chinese Nationalist Party's (KMT) presidential candidate, despite previous promises to the contrary, was "the only possible choice in a completely unexpected situation," KMT Chairman and presidential candidate Eric Chu (朱立倫) asserted that his candidacy is necessary to prevent "single-party preponderance" after January's presidential and legislative elections.
Chu made the remarks in an interview with the Chinese-language Liberty Times (the Taipei Times' sister newspaper) on Sunday, one day after he was selected as the KMT's presidential candidate at an extempore KMT congress on Saturday, replacing Deputy Legislative Speaker Hung Hsiu-chu (洪秀柱).
Chu said he was sincere when he promised on June 23 last year to serve his full term in his announcement to seek re-election in November last year as New Taipei City mayor. While admitting to have considered running in the presidential race prior to that announcement, he said the consensus of the KMT at that time was that he should "hold down" New Taipei City.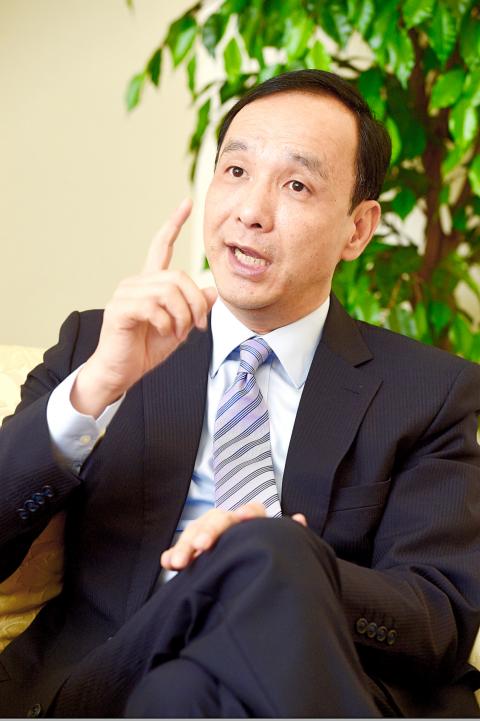 Chinese Nationalist Party (KMT) Chairman Eric Chu gestures during an interview with the Chinese-language Liberty Times (the Taipei Times' sister newspaper) on Sunday.
Photo: Lo Pei-der, Taipei Times
Referring to the results of last year's nine-in-one local elections, Chu said: "Nobody could have foreseen that the KMT would suffer such a defeat, or that I would become KMT chairman."
Chu said that, at the time, he held on to his pledge that he would not run for presidential office because he saw his role as an "outside mediator," who could "rise above the disputes of my seniors" and "adjudicate with fairness and objectivity" the KMT nomination of its presidential candidate.
"My thoughts at the time were likely to have been overly simplistic," he said.
Chu said that in April, after he, in his capacity as KMT chairman, decided that the party would not pursue its lawsuit against Legislative Speaker Wang Jin-pyng (王金平) over the latter's KMT membership — a decision made by the former KMT disciplinary committee in 2013 when President Ma Ying-jeou (馬英九) chaired the party — all KMT politicians, including Wang, Vice President Wu Den-yih (吳敦義) and Hung were free, if they were so inclined, to run in the party's presidential primary.
It turned out that only Hung formally registered her candidacy for the primary and that she acquired an approval rating of 46 percent in polls and was nominated as the party's presidential candidate, Chu said.
"The situation [Hung's nomination being revoked] has prompted me to make this hard decision. It was completely unexpected," Chu said.
When asked why Wang was not nominated as the presidential candidate to replace Hung, Chu said: "It might have been possible if Hung withdrew voluntarily from the race, in which case, the party would have had more time and more room to maneuver. However, the party has run out of time and the extraordinary national congress was convened [on Saturday] instead to elect a replacement through the democratic process."
"At this point, nobody should think that the final decision was a power play or a fight for spoils. We are taking responsibility collectively," Chu said.
"The most important job for me as a chairman is to preserve he (和), which is [the Chinese character found] in harmony (和諧) and cooperation (合作). All of my communication with Wang has been sincere," Chu said. "What Wang and I told you is what happened. Anyone else, including the people around us and the media, are just repeating hearsay."
Chu said he joined the race because he believes that "there must be a choice for Taiwanese in the presidential election."
If a candidate "could win the election lying down," there would be no need for "debate or clarification on policy issues," and "Taiwanese would be robbed of their ability to choose," he said.
"Single-party preponderance" would occur if the Democratic Progressive Party (DPP) is to "win a lopsided victory in the presidential or legislative election," which would result in "the loss of checks and balances that would be unhealthy for Taiwan's democracy," he said.
"I know my decision to run could bring me infamy, but I must do my part for Taiwanese and democracy," he added.
Acknowledging that some of the KMT's present difficulties stemmed from the governance performance of the Ma administration, Chu said the party would reflect and try to do better where it can and "jointly take upon itself the responsibility" where necessary.
On his assessment of his main opponent, DPP presidential candidate Tsai Ing-wen (蔡英文), Chu said Tsai has had her sights set on running for presidency for a long time and has actively prepared for the presidential election for more than five years.
"By comparison, I have mostly been focusing on administrative affairs in local governments, whereas Tsai has been preoccupied with affairs that are politically oriented," Chu said.
He added that he told Tsai when they attended an official Double Ten National Day ceremony earlier this month that "elections need not be focused on mud-slinging wars, protests and legal actions, as it is time for Taiwan's democracy to take a step further," adding that the nation's democracy has matured to the point where it is not a given for a party to stay in power after being elected.
Saying that his presidential campaign is to focus primarily on cross-strait policies, Chu added that both the KMT's and his personal stance on the cross-strait issue revolves around an adherence to the so-called "1992 consensus," and the notion for "one China, with different interpretations (一中各表)."
When asked if the KMT accepts China's rhetoric that the "1992 consensus" was based on the core concept of both sides of the Taiwan Strait "belonging to the same 'one China' (同屬一中)," Chu reiterated that the KMT's stance was that each side of the Strait has its own interpretation of what "China" means.
Chu extended an invitation to Tsai to debate all issues that the public is most concerned with, "chiefly the issue of national identity, then economic issues, job opportunities, child and elderly care and organic farming being other topics of importance."
On the possibility of cooperation with the People First Party (PFP), Chu said that both parties share common roots and that he looks up to PFP Chairperson James Soong (宋楚瑜) as one would a venerated elder, adding that both parties share a common responsibility for the future of the KMT.
Saying that he understands Soong's criticism of "certain individuals," Chu added that personal emotions need not be escalated to include the KMT as a whole.
There are many channels through which both parties could work together, he added.
However, Chu was reserved on the issue of how many seats the KMT is targeting as its goal in the Legislative Yuan and his plans on how to turn the tables on that front, saying only that "the party has gone through great turmoil over the past few months."
As the party's extraordinary congress on Saturday voted collectively to start afresh, Chu, who said he is no superman, but just a simple man, added that he would do his best to muster supporters and work toward a common goal.
"The KMT, right now, is like Ethan Hunt in the Mission: Impossible series, seeking to take on a seemingly impossible mission and win against overwhelming odds," he said.
Additional reporting by Lai Hsiao-tung and Lee Ya-wen
Comments will be moderated. Keep comments relevant to the article. Remarks containing abusive and obscene language, personal attacks of any kind or promotion will be removed and the user banned. Final decision will be at the discretion of the Taipei Times.