Taipei defends forcible demolition of man's home
SHOCK MOVE? Mayor Ko said that he was surprised to learn that the homeowner did not know in advance of the demolition, and that he had not been told either
The Taipei Department of Urban Development yesterday said that a construction company's demolition of a privately owned building was carried out in accordance with legal procedures as part of a private urban renewal project approved by the Taipei City Government.
Pacific Construction Co on Friday sent three excavators to a site on Tingzhou Road (汀州路), and in just two minutes tore down a house owned by Luo Chin-kuang (羅進光).
The urban renewal project involved 80 landowners, and Luo was the only one to oppose to it.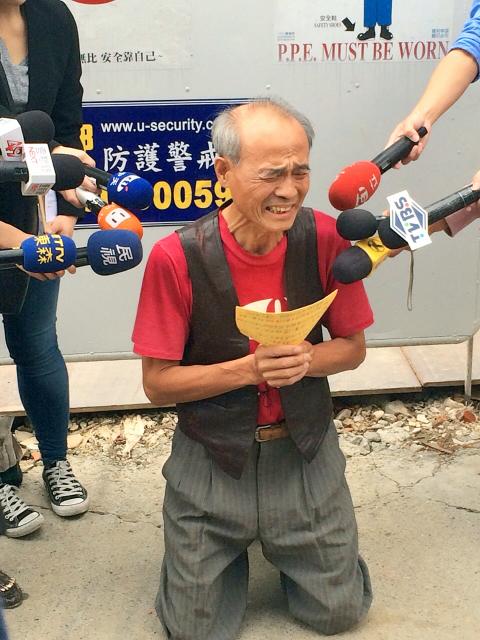 Luo Chin-kuang yesterday cries as he kneels after his house on Tingzhou Road in Taipei was torn down by a construction company as part of a private urban renewal project.
Photo: Hsiao Ting-fang, Taipei Times
All the other homes had already been demolished.
Luo had previously said that his house's location had been determined according to feng shui principles, and that demolishing it would bring Taiwan bad luck.
Luo emerged from his home at noon and, kneeling down, he read from a prepared statement, pleading to President Ma Ying-jeou (馬英九) and Taipei Mayor Ko Wen-je (柯文哲) to help protect his land.
He said that he would not file any charges against the construction company.
Department head Lin Jou-min (林洲民) told reporters that the demolition had been carried out lawfully on a permit issued by the city government in April last year.
Citing the Urban Renewal Act (都市更新條例), Lin said that the project was approved after gaining the backing of 60 percent of property owners who together owned more than two-thirds of space allocated for the project.
Contractors for urban renewal projects should reach agreements with all stakeholders because tearing down homes could lead to social unrest, Lin said.
At a separate setting, Ko, who has previously met with Luo, said that he was surprised to learn that Luo did not know of the demolition in advance, "and I did not know it either."
While the city had issued a demolition permit to the construction firm, "I would expect them to talk to the home owner before flattening the house," Ko said, adding that he would try to come up with a solution that is acceptable to everyone.
"If he [Luo] insists, we could try to find a way for him to have peace of mind in designing the building," Ko said.
Comments will be moderated. Keep comments relevant to the article. Remarks containing abusive and obscene language, personal attacks of any kind or promotion will be removed and the user banned. Final decision will be at the discretion of the Taipei Times.