Beliefs more important than policies: Ko Wen-je
CORE VALUES: Ko said that without the Sunflower movement and the death of Hung Tzu-yung's brother, he would never have launched his political career
Taipei Mayor Ko Wen-je (柯文哲) yesterday told New Power Party legislative candidate Hung Tzu-yung (洪慈庸) that it is more important to adhere to her beliefs than to propose policies in the run-up to next year's legislative election.
Ko made the remark while attending a forum at Hung's campaign office in Taichung.
'white force'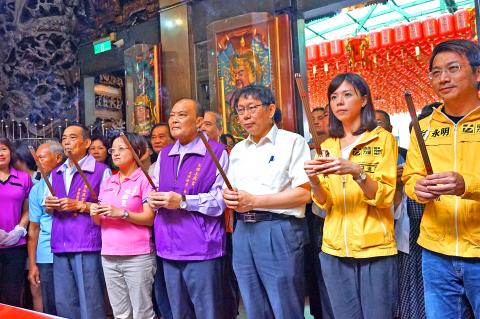 Taipei Mayor Ko Wen-je, second right, and prospective New Power Party legislative candidate Hung Tzu-yung, right, offer incense at the Yongsing Temple in Taichung's Daya District yesterday.
Photo: Ou Su-mei, Taipei Times
Saying that he was at one point a fan of Hung, Ko called on the public to express their support for the "white force" — political novices — to change Taiwan for the better.
Ko praised Hung for managing to remain collected in facing challenges after being confronted with the death of her brother, army corporal Hung Chung-chiu (洪仲丘).
He said that Hung Tzu-yung played a "critical role in a critical moment in Taiwan's history," which changed Taiwan's fate.
Hung Chung-chiu, whose death sparked widespread public outcry leading to a massive demonstration, died after his superiors at the army's 542nd Brigade subjected him to punishment exercises for bringing a cellphone onto a military base.
"Without the Hung Chung-chiu incident and the Sunflower movement, there would not have been a Ko Wen-je election campaign," Ko said.
accidental politicians
Saying that both he and Hung Tzu-yung entered politics by accident, Ko added that he had often wondered what role he would assume in last year's Taipei mayoral election and how he was going to influence Taiwan.
"Policies are bound to change with the changing of times, so it is more important to hold on to one's beliefs than to policies," he said.
Hung said that the upcoming legislative election was not her own fight, but one that will decide whether the nation is to change for the better, or for the worse.
She said that she must let go of her pain and stick to her beliefs to bring about change.
"One sees hope because she persists, not the other way around," she said.
Additional reporting by Sean Lin
Comments will be moderated. Keep comments relevant to the article. Remarks containing abusive and obscene language, personal attacks of any kind or promotion will be removed and the user banned. Final decision will be at the discretion of the Taipei Times.