More protests over curricula pledged
SOCIAL STRATEGY: Academic campaigners have called on social media users worldwide to upload pictures with the hashtag #savethehistory in their bid to fight changes
Student groups yesterday said the Ministry of Education had failed to meaningfully respond to their demands for the withdrawal of proposed curriculum changes, threatening further protests if they receive no response by Friday.
"While the ministry has put on the appearance of opening up textbook selection, in reality, books have already been chosen," Northern Taiwan Anti-Curriculum Changes Alliance convener Chu Chen (朱震) said.
Chu, a student at Taipei Municipal Jianguo High School, said the ministry waited until last month to announce that schools were permitted to continue using old textbooks because most schools had already finalized textbook selections for the upcoming school year.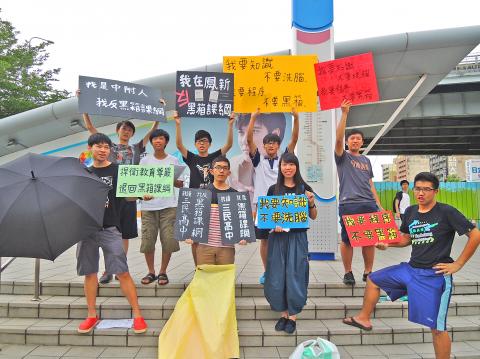 A group of high-school students in Kaohsiung who oppose the Ministry of Education's modified history curriculum yesterday seek public support to pressure the government to scrap the curricular adjustments.
Photo: Hung Ting-hung, Taipei Times
Amid controversy over what critics describe as "China-centric" adjustments to high-school curriculum guidelines, the groups have called for schools to continue using older textbooks based on previous guidelines.
Because the ministry defined the adjustments as "minor," printing licenses for preadjustment textbooks remain valid.
Chu said that the ministry's decision to allow the use of older textbooks was insufficient because printing licenses for such texts expire within three years, ensuring that schools would be forced to adopt new textbooks.
The ministry's announcement of plans to allow wider participation in drafting curricula was vague, because it was unclear who would be included and what "supplementary measures" would be adopted to incorporate their views, he said.
Alliance spokesman Dai Lin (林冠華) reiterated demands that the adjusted curriculum guidelines be withdrawn immediately and replaced with more diverse and neutral guidelines approved through an "open and transparent process."
Lin said protest activities would be escalated if the ministry fails to "meaningfully respond" to student demands by Friday.
The groups called on Democratic Progressive Party (DPP) presidential candidate Tsai Ing-wen (蔡英文), Chinese Nationalist Party (KMT) presumptive presidential candidate Hung Hsiu-chu (洪秀柱) and a number of legislators to make public their positions on the guideline changes.
The groups said that they had received funding from the DPP to purchase several umbrellas for a protest outside the ministry on Sunday, but added that most of their funding had come from donations collected at the protest itself, promising to soon make public the sources of their funding.
Further measures to protest against the curriculum changes include issuing calls for international support on social media, they said.
Netizens are invited to upload pictures of themselves holding up signs saying: "I want the facts" with the hashtag #savethehistory.
Comments will be moderated. Keep comments relevant to the article. Remarks containing abusive and obscene language, personal attacks of any kind or promotion will be removed and the user banned. Final decision will be at the discretion of the Taipei Times.