Ma accents 'status quo' in US-based conference
SINGLE NOTE: President Ma Ying-jeou said a democratized China would let people on both sides of the Taiwan Strait think on an equal basis as a prelude to any integration
President Ma Ying-jeou (馬英九) recounted his administration's efforts to promote regional stability as a peacemaker and as a US ally in a video link to a conference with US academics and former US officials organized yesterday by Stanford University's Center on Democracy, Development and the Rule of Law.
He also described as "interesting" Democratic Progressive Party Chairperson Tsai Ing-wen's (蔡英文) desire to uphold the "status quo," calling it an unexpected move from an opposition leader.
Speaking at the beginning of the conference, Ma said the Taiwan-US relationship is at its best in 36 years.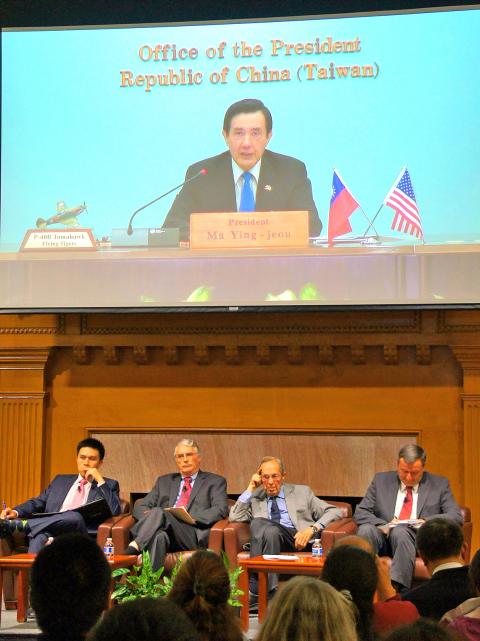 President Ma Ying-jeou participates in a video conference with Stanford University in California yesterday.
Photo: CNA
"There are two key reasons," he said. "First is the successful handling of the cross-strait relationship based on the 1992 consensus, namely the 'one China, respective interpretations' principle. Second [is] the low-key and surprise-free approach to the conduct of our [Taiwan-US] bilateral relations."
The "status quo," Ma's peace initiatives, Taiwan's intention to participate in the Trans-Pacific Partnership (TPP) and the nation's defense strategy were among the topics of questions raised in the conference.
Former US National Intelligence Council chairman Thomas Fingar asked Ma to elaborate on the "status quo" he has been upholding and to comment on the opinion that "if the relationship is not moving forward, it is automatically sliding back."
Ma listed the declarations of "no unification, no independence and no use of force," under the framework of the Republic of China (ROC) Constitution, and the promotion of the "1992 consensus" as elements of his "status quo."
"It is a status quo that is very different from [the one] seven years ago," Ma said.
That the presidential candidate of an opposition party echoes the idea of maintaining the "status quo" is an "interesting development," since usually an opposition leader would want to change government policies, Ma said.
Fingar asked how Ma would work to advance the South China Sea Peace Initiative he proposed last month. Ma said that he expects it to achieve results as significant as those of the East China Sea Peace Initiative, which he said helped Japan and Taiwan seal a fisheries agreement that had been impossible before.
He emphasized that a road map of the new initiative is to be announced in the near future.
Lanhee Chen (陳仁宜), the David and Diane Steffy Research Fellow at the Hoover Institution, asked Ma how he would push for Taiwan's participation in the TPP during his final months in office.
The president said various government departments last year began to prepare for Taiwan's participation in the TPP.
However, "we understand it is difficult for us to join because none of the 12 potential members of the TPP is our diplomatic ally," he said.
Ma also raised potential domestic resistance from industries that might be affected by market liberalization as an obstacle that could make opening up for free trade "an uneasy job."
He mentioned the "obstruction" met by the cross-strait services trade agreement, "which still lies in the Legislative Yuan after 20 rounds of public hearings," as an example of domestic resistance.
"This is certainly a message that our trading partners probably do not like to see; they hope once an agreement is negotiated and completed that it would receive a proper hearing in the national legislature so the agreement can become reality," he said.
Former US ambassador to Afghanistan Karl Eikenberry asked about Taiwan's defense strategy, saying that he noticed in 2011 when he visited Kinmen — which used to be a "fortress with 100,000 troops" — that there are probably more Chinese tourists there now than the local population.
Reiterating his idea of a "three-line defense," which involves "the institutionalization of rapprochement with [China]," "making Taiwan an asset rather than liability to the international community," and continuing to maintain a military force with outside assistance on weaponry — mainly from the US, Ma said Taiwan and its national defense could "become an important part of the rebalance to Asia strategy of the US."
Taiwan could also serve as a regional peacemaker, Ma said.
An audience member asked whether Taiwanese would be more likely to support "unification" with China if it becomes "more democratic," a query the president called "very hypothetical."
"We hope [China] will become democratic, but we are not trying to impose Western values on [China]. If we look at Chinese history, some rulers were advised to tolerate dissent — let me repeat — to tolerate dissent. This is not only a Western tradition," Ma said.
If China does democratize, "I am sure the psychological distance between the two peoples will be greatly diminished. I cannot promise that the [Taiwanese] people will then support unification, but at least the people on both sides of the Taiwan Strait can think on an equal basis, which would be the first step to an integration," he said.
Comments will be moderated. Keep comments relevant to the article. Remarks containing abusive and obscene language, personal attacks of any kind or promotion will be removed and the user banned. Final decision will be at the discretion of the Taipei Times.