Lawyer to Ma's father sues KMT elites over assets
BOMBSHELL: A member of the Chinese Nationalist Party (KMT) for 56 years, George Wang filed a suit over the loss of holdings worth about NT$200 billion
George Wang (王可富), lawyer and former legal consultant to Ma Ho-ling (馬鶴凌), yesterday filed suit against 13 elite members of the Chinese Nationalist Party (KMT) — including President Ma Ying-jeou (馬英九) — accusing them of breach of trust and embezzling NT$200 billion (US$6.3 billion) worth of party assets.
"Ma Ying-jeou is behind the unexplained depreciation of party assets," Wang said as he filed the suit with the Taipei District Prosecutors' Office.
Ma Ho-ling, who died in 2005, was Ma Ying-jeou's father.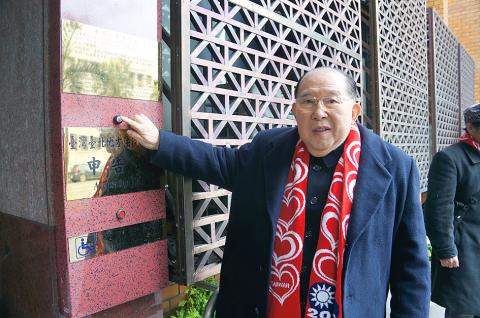 Lawyer and Chinese Nationalist Party (KMT) member George Wang yesterday prepares to file a lawsuit with the Taipei District Prosecutors' Office over the unexplained loss of value of the party's assets.
Photo: Chien Li-chung, Taipei Times
Wang said he had sought meetings with Ma Ying-jeou to address the party's lingering issues with its potentially ill-gotten assets, as well as to tackle problems associated with veterans' pensions, but has been rejected three times.
A 56-year KMT member, Wang said that his annual membership fees were part of the party's assets, which he said shrank from NT$200 billion in 2000 to just NT$27 billion in 2006 for unknown reasons.
He added that the KMT was wrong for appropriating public property into party assets, properties he said must be returned to the state.
Wang said that Ma Ying-jeou, KMT chairman from 2006 until early last month, and 12 other prominent figures in the KMT's ruling body between 2000 and 2006 — including former vice president Lien Chan (連戰) — must be held responsible for the unexplained plunge in value and the damage done to members.
Wang highlighted differences among various reports of asset value, saying that former KMT treasurer Liu Tai-ying (劉泰英) once estimated holdings to be worth NT$200 billion, while New Taipei City Mayor Eric Chu's (朱立倫) assessment was just NT$100 billion, Wang said.
Moreover, he added, the party's own assets report — submitted to the Ministry of the Interior in 2013 — tallied a total value of just NT$26.8 billion.
"The figure showed a steep plummet from Liu's and Chu's estimations," Wang said.
Saying that no party assets were returned to the state — nor used for charity — between 2000 and 2006, Wang questioned the cause of their plummeting value.
He called on the Taipei District Prosecutors' Office to summon Liu, Chu and former president and former KMT chairman Lee Teng-hui (李登輝) for questioning to calibrate and clarify what happened to the party's assets since Lee stepped down as chairman in 2000.
Besides Ma Ying-jeou and Lien, Wang's suit named former KMT chairman Wu Poh-hsiung (吳伯雄) and other KMT officials, including Chiang Ping-kun (江丙坤), John Kuan (關中), Lin Feng-cheng (林豐正) and Chan Chun-po (詹春柏). KMT Vice Secretary-General Lin Te-jui (林德瑞) also made the list.
This story has been corrected since it was first published.
Comments will be moderated. Keep comments relevant to the article. Remarks containing abusive and obscene language, personal attacks of any kind or promotion will be removed and the user banned. Final decision will be at the discretion of the Taipei Times.