Group submits petition to recall KMT's Alex Tsai
The Appendectomy Project — a campaign to recall Chinese Nationalist Party (KMT) legislators Alex Tsai (蔡正元), Wu Yu-sheng (吳育昇) and Lin Hung-chih (林鴻池) — yesterday submitted its petition to recall Tsai, which has garnered the support of 59,898 signatories over the course of 30 days.
The petition made it well past the required threshold of 13 percent of eligible voters in Tsai's constituency, or 38,939 people, paving the way for a referendum to recall Tsai.
By law, the Central Election Commission has 40 days to verify the information provided by the petitioners.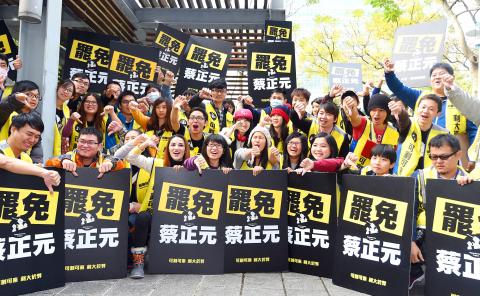 Members of the Appendectomy Project campaign to recall certain Chinese Nationalist Party (KMT) legislators gather outside the Taipei City Election Commission yesterday. They were there to submit a petition with 59,898 signatories to recall KMT Legislator Alex Tsai.
Photo: Lo Pei-der, Taipei Times
After the petition is declared valid, a recall referendum must be held within 30 days. That means the vote to decide Tsai's fate would be held before the end of February.
To recall Tsai, more than half of the votes cast in the referendum must be in favor of the move. A 50 percent turnout is also required for the referendum to be considered valid.
Organizers of the project tried to collect as many signatures as possible to ensure that the petition would obtain the commission's approval, said the project's spokesperson, known as "Mr. Lin from Taipei" (台北林先生).
"This is the first time a recall campaign has entered its third phase [referendum phase] since 1994," Lin said, adding that the project hosted more than 50 large-scale events and set up more than 1,200 stands to reach the required threshold.
The remaining campaigns to recall Wu and Lin Hung-chih have until Saturday next week to collect the required number of signatures. Both campaigns are lagging behind, with less than half of the required signatures collected so far.
The name Appendectomy Project was chosen because the term for pan-blue camp legislators in Mandarin Chinese, lan wei (藍委), is pronounced in the same way as the word for "appendix" (闌尾).
Comments will be moderated. Keep comments relevant to the article. Remarks containing abusive and obscene language, personal attacks of any kind or promotion will be removed and the user banned. Final decision will be at the discretion of the Taipei Times.