Activists call for constitutional changes
POLITICAL DRAMA: Taiwan Citizen Union president Fan Yun urged political parties to set out a timetable for reform and not use the issue to boost their opinion ratings
The Taiwan Citizen Union (TCU) and academics yesterday called for the Constitution to be amended to give smaller political parties a more open channel to voice their opinions in the legislature and for the voting age to be lowered to 18 to increase young people's engagement in political issues.
TCU president Fan Yun (范雲) told a news conference in Taipei that the key to regenerating the nation's political system is to lower the threshold for parties to name legislators-at-large from 5 percent of total party votes, as stipulated in the Constitution, to at least 2 percent, so that larger political parties cannot monopolize the 34 legislator-at-large seats.
Citing the Green Party as an example, she said that the nation's 5th largest party obtained nearly 230,000 votes, about 1.8 percent the total number of party votes, but was denied a legislator-at-large seat.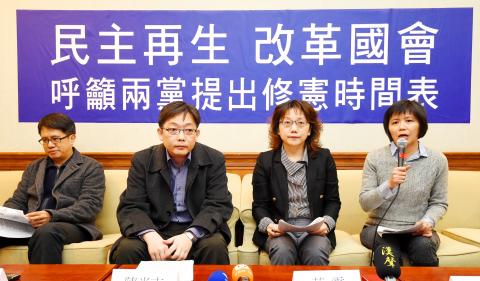 Taiwan Citizen Union president Fan Yun, second right, and National Chengchi University professor Chen Shang-chih, second left, hold a news conference in Taipei yesterday calling for the major parties to set out a timetable for constitutional reform.
Photo: Liu Hsin-de, Taipei Times
In addition, the party did not receive any subsidies from the Central Election Commission because it did not reach the 5 percent threshold, Fan said.
She said the electoral system needs to be changed from the existing mixed-member majoritarian system to the mixed-member representation system used by Germany — a system said to produce a more faithful representation of votes, making it more favorable to smaller parties.
The proposed system differs in that it allocates legislators-at-large seats by deducting the total number of seats won by a party through direct vote from the overall ratio of votes it obtains, rather than allocating the seats directly by party-vote ratios.
Fan said this reform could be achieved by amending the Civil Servants Election and Recall Act (公職人員選舉罷免法) alone and does not require a constitutional amendment.
While she approved of New Taipei City Mayor Eric Chu's (朱立倫) suggestion to amend the Constitution to change the semi-presidential political system into a parliamentary one to achieve clearer distribution of administrative power, she said the Chinese Nationalist Party (KMT) might be using the issue to put on a political drama aimed at salvaging its languishing approval rates.
She called on Democratic Progressive Party (DPP) Chairperson Tsai Ing-wen (蔡英文) and Chu, who is seeking the KMT chairmanship, to push for constitutional reform and urged them not to block efforts to amend the act.
"The DPP and KMT should lay out a clear timetable for constitutional reform and not take advantage of the issue to boost their image or further their political aims," she said.
National Chengchi University political science professor Chen Shang-chih (陳尚志) called on legislators to complete the roadmap for constitutional reform six months before the 2016 presidential and legislative elections to allow time for a plebiscite on the issue to be held in tandem with the polls.
He also said that the legal voting age should be lowered from 20 to 18 to allow more young people to participate in the referendum.
Comments will be moderated. Keep comments relevant to the article. Remarks containing abusive and obscene language, personal attacks of any kind or promotion will be removed and the user banned. Final decision will be at the discretion of the Taipei Times.