Shipwreck to impact research
GRAVE LOSS: The minister of science said the vessel was vital to high-quality research, and the ministry and government agencies would discuss whether to repair or replace it
The nation's ability to conduct marine science, detect new energy sources and measure environmental change has suffered a major blow after a maritime research vessel sank on Friday, leaving two dead.
The Ocean Researcher V sank in stormy waters around 8:11pm, less than three hours after it first issued a distress call, said Chi Wen-jong (祁文中), director-general of the Maritime and Port Bureau.
The NT$1.46 billion (US$47.98 million), 2,700 tonne Ocean Researcher V is the largest research ship Taiwan owns, known for its state-of-the-art equipment and ability to operate in bad weather.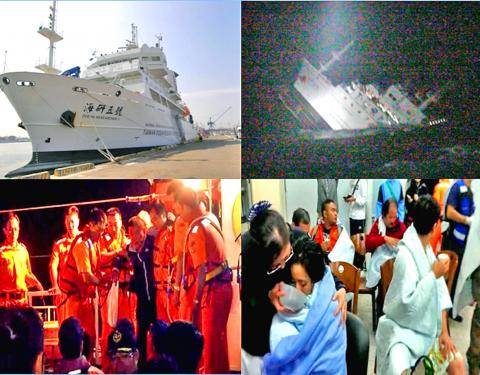 A combination of photographs shows the Ocean Researcher V before and after it ran aground on Friday evening.
Photo montage: CNA
The ship had a remotely operated underwater vehicle that could descend to depths of 3,000m to search for the existence of fossil fuels such as natural gas and methane clathrate, experts said.
National Cheng Kung University marine technology professor Kao Chia-chuen (高家俊) said the ship was the most advanced maritime research vessel Taiwan had, and was mainly used for reef exploration.
Kao, who supervised the construction of the vessel, said findings by the ship could have contributed to Taiwan's biofuel and hydrology studies, which were of great value to national security.
The ship collected and ignited high-density methane off southwest Taiwan last year, paving the way for the country's energy exploration.
The ship was also able to analyze levels of marine pollutants and identify plate movements to assist in the prediction of earthquakes or tsunamis, experts said.
Besides the loss of hardware, the death of Hsu Shih-chieh (許世傑), a research fellow at the Academia Sinica, was also seen as a great loss to the field of marine science.
Hsu, 47, had spent the past decade studying marine particulate matter in the East China Sea and the South China Sea and was one of the top five experts in the field in Taiwan, said Liu Shaw-cheng (劉紹臣), director of the Research Center for Environmental Changes at Academia Sinica.
Another member of the crew, Lin Y-chun (林怡君), 30, passed away. According to her direct superior, the ship's investigation division chief Yang Yi (楊益), Lin was very passionate about maritime affairs.
At a press conference yesterday, Minister of Science and Technology Simon Chang (張善政) stressed the importance of having a research vessel of the caliber of the Ocean Researcher V to the nation and said the ministry and related agencies would hold discussions about whether to repair it or build another vessel.
Chang said the loss of the ship would affect a total of 13 projects originally scheduled until August next year.
Additional reporting by Liu Yu-ching and Tsai Ying
Comments will be moderated. Keep comments relevant to the article. Remarks containing abusive and obscene language, personal attacks of any kind or promotion will be removed and the user banned. Final decision will be at the discretion of the Taipei Times.