Activists remember Sunflower's Chen
More than 300 Sunflower movement activists yesterday gathered in Miaoli County's Jhunan Township (竹南) for a memorial service for Oliver Chen (陳瑞光), a leading member of the student-led movement who died in a scooter accident on Monday last week.
Sunflower movement leaders Chen Wei-ting (陳為廷) and Lin Fei-fan (林飛帆) were among those who helped carry Oliver Chen's casket. Academia Sinica researcher Huang Kuo-chang (黃國昌) also attended.
The memorial service site was decorated plainly, draped mainly in white. The main photograph of Oliver Chen was taken at the Legislative Yuan during the Sunflower movement's occupation of the legislature's main chamber. His parents said they chose the photograph because of Oliver's bright smile, beaming with confidence, which also made them proud.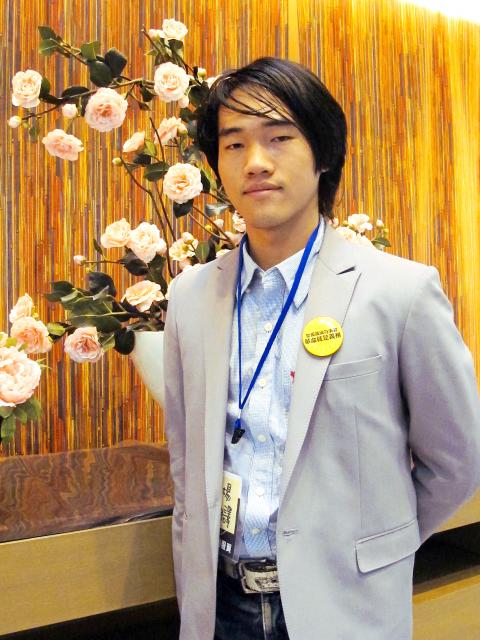 Oliver Chen, a leading member of the Sunflower movement, poses for a photograph in Taipei on April 2. Chen died on Sept. 15 after his scooter slipped off the road on his way from New Taipei City's Pinglin District to Yilan County.
Photo: Hsieh Chia-chun, Taipei Times
A third-year graduate student of law at National Taiwan University, Oliver Chen was fluent in English, Japanese, German and French. Leading a team of students tasked with translation, he played an important role in the Sunflower movement's real-time updates to the world about their occupation of the legislature to protest the government's handling of a proposed service trade agreement with China.
Chen Wei-ting, Lin and Huang helped prepare Oliver Chen's memorial service, staying overnight at the memorial site before the service. Heavy rainfall during the night kept them busy keeping the floors of the venue dry.
"In the middle of the night, to the tune of Beethoven's Concerto No. 5, shall we all drink a toast to you again," Huang said on Facebook.
"This is the last night that we'll be in your company," Lin posted.
The funeral procession at one point passed by the original site of the Chang Pharmacy, which was forcibly demolished last year by the Miaoli County Government to expand the Jhunan Science Park.
"I still remember how in the midst of the storm last night, as our companions discussed the development of our discussion group, we played a recording of your first public speech, brimming with such enthusiasm, your voice even cracking several times," Chen Wei-ting later posted on Facebook.
"It made me feel like something solid has faded away. We still have a long journey to travel. We still cannot see the end of the path in our search for justice," he wrote.
Comments will be moderated. Keep comments relevant to the article. Remarks containing abusive and obscene language, personal attacks of any kind or promotion will be removed and the user banned. Final decision will be at the discretion of the Taipei Times.