Taiwan hackers place 2nd in US contest
SOFTWARE SKILLS: HITCON's manager urged the government to organize a similar contest to encourage more young people to go into software security development
A Taiwanese team has won second place in the Capture the Flag (CTF) competition at the 22nd DEF CON, an international convention for hackers and computer security professionals that ended on Sunday in Las Vegas.
With an average age of 23, more than half of the members of the team — called HITCON — are university students, coming mainly from National Taiwan University, National Chiao Tung University and National Taiwan University of Science and Technology.
The manager of the team, Lee Lun-chuan (李倫銓), said they defeated the "Dragon Sector" team from Poland, who was the defending champion, to place second in the CTF competition. China's "Blue Lotus" team came in fourth.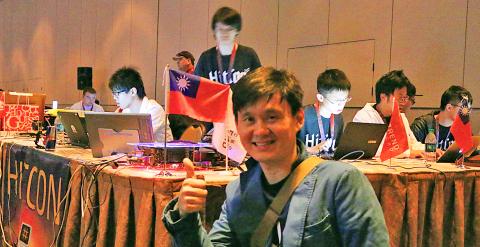 Lee Lun-chuan, manager of HITCON, a group of young Taiwanese hackers, makes the thumbs-up sign in front of the group that won second prize at DEF CON Capture the Flag in Las Vegas on Monday.
Photo courtesy of Armorize Technologies Inc founder Wayne Huang
"We had to beat many teams from other nations just to get into the final round. It is the first time in DEF CON's 22 years that a Taiwanese team advanced into the CTF finals," Lee said.
"Although there is no prize money in this competition, we are proud of this good result. It bolsters Taiwan's reputation in the international software security community," he said.
"This year's title winner is a very strong US team, known as PPP — Plaid Parliament of Pwning. [The team] has a member known as Geohot, who is recognized as a genius in the hackers' world. Geohot is famous for hacking into iPhone and PS3 [PlayStation 3] systems. [Competing alone] he defeated nine other teams at a recent hacker competition in South Korea," Lee said.
CTF is one of several main hacking competitions at DEF CON, held this year from Thursday to Sunday last week. For the finals, computer programming crackers attempted to attack and defend computers and server networks using designated software and network structures.
After the preliminary contests, 20 teams advanced to the CTF final round during the weekend. Each team has to defend the embedded flaws in its server, while launching attacks agaisnt the opposition and trying to patch flaws. Lee said HITCON's task in the finals was to defend its assigned ARM v7 server.
"The key to HITCON's success was teamwork and close collaboration among all members. The team would like to thank Trend Micro for its financial support," he added.
Lee said the government should organize similar competitions to encourage more young people to hone their skills in software security.
Wayne Huang (黃耀文), founder of the Web security service Amorized Techologies Inc, said that winning in a hackers' competition comes from many years of hard work and experience.
"The US team that won got together every weekend to train, write programs, find subjects for investigation and search for solutions. This is why they captured the title this time," Huang said.
"Taiwan has outstanding talent in this field. However, we have not yet reached a level where Taiwan's software sector is well recognized internationally. HITCON's achievement is a rare exception," he said.
Huang added that the nation does not yet have a good environment to foster the healthy development of the software security industry.
"The government and the private sector should pool their resources to promote software security, so that it can become synonymous with Taiwan. It's like when people mention Italy, they associate it with Ferraris," Huang said.
Comments will be moderated. Keep comments relevant to the article. Remarks containing abusive and obscene language, personal attacks of any kind or promotion will be removed and the user banned. Final decision will be at the discretion of the Taipei Times.