KAOHSIUNG DISASTER: Condolences flow from EU, Singapore Japan, UK, China
Japan, the UK, the EU, Singapore and China have expressed their condolences to the families of the people killed by gas explosions that ripped through a neighborhood in Greater Kaohsiung on Thursday night, causing at least 28 deaths and leaving at least 286 people injured.
Japan's representative to Taiwan Mikio Numata sent letters of condolence on Friday to President Ma Ying-jeou (馬英九), Minister of Foreign Affairs David Lin (林永樂) and Association of East Asian Relations Chairman Lee Chia-chin (李嘉進)
Speaking on behalf of Japan's Interchange Association, Numata said that he was "deeply saddened" to learn of the blasts in Kaohsiung that killed many people, including firefighters, and offered his deepest sympathy to the families of those who lost their lives.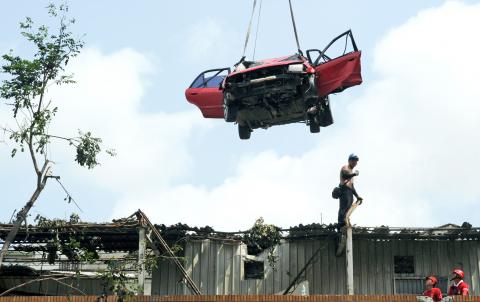 A damaged car is lifted by a crane from the damaged rooftop of a three-story building yesterday near the site of a gas explosion in Greater Kaohsiung.
Photo: AFP
The European Economic and Trade Office in Taipei, on behalf of the EU, also expressed its sincere condolences to the families, the office said on Facebook.
"Our thoughts are with the people of Kaohsiung and we wish prompt recovery to the injured," the post read.
The Taipei-based British Trade and Cultural Office said in a statement on Friday that it was saddened to learn of the gas explosions that caused heavy loss of life and many injuries.
The Singapore Trade Office in Taipei on Friday also issued a statement extending "deepest condolences."
Meanwhile, sources said China's Association for Relations Across the Taiwan Straits Chairman Chen Deming (陳德銘) called Straits Exchange Foundation Chairman Lin Join-sane (林中森).
Chen conveyed China's sympathy for those affected by the incident, adding that China is willing to provide assistance if it is needed, the sources said.
Comments will be moderated. Keep comments relevant to the article. Remarks containing abusive and obscene language, personal attacks of any kind or promotion will be removed and the user banned. Final decision will be at the discretion of the Taipei Times.