Tainan draws local, foreign visitors to feast of mangoes
Foreign and local visitors flocked to the opening of the annual Tainan International Mango Festival on Saturday for a taste of the latest mango varieties as well as snacks and dishes made of the popular summer fruit.
The festival, which is being held at the Tsou-Ma-Lai Farm (走馬瀨農場) in Greater Tainan's Danei District (大內), is to run until Sunday.
Nineteen foreign trade delegations, including representatives from Japan, South Korea, Singapore, Vietnam, Brunei and Canada, were present at the festival's opening weekend.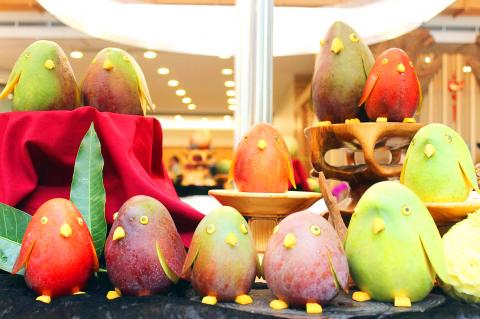 Mangoes carved into the shape of birds are displayed at the Tainan International Mango Festival at Tsou-Ma-Lai Farm in Greater Tainan's Danei District on Saturday.
Photo: Lin Meng-ting, Taipei Times
Two Japanese trade delegations — from Hirosaki City, Aomori Prefecture, and Minakami Town, Gunma Prefecture — visited the festival for a second straight year.
"Mango and its many products are delicious and loved by everyone. It is a symbol of Tainan's success in refined fruit production and agricultural technology," Greater Tainan Mayor William Lai (賴清德) said. "Promoting mangoes not only boosts sales and international trade, it also promotes friendship with other countries."
"At the first Tainan International Mango Festival last year, we garnered more than NT$35 million [US$1.17 million) in orders. We look forward to breaking that figure this year," Lai added.
Aside from fresh fruit, the festival features mango ice desserts and pastries, mango gift packs, sliced green mango snacks and a host of activities, including mango picking and learning how to make mango-inspired snacks.
Festival organizers — the Greater Tainan Government, the Taiwan External Trade Development Council and the Tainan Farmers' Co-operative Association — have also set up a "Mango Bus" to run during the festival.
People can board the "Mango Bus" at the Shanhua Rail Station and get off at Tsou-Ma-Lai Farm or Yujing (玉井), famed for its mango trees and mango ice dessert shops during summer.
The Mango Bus runs until the end of next month, according to the Greater Tainan Government, adding that passengers can keep their bus ticket receipt and exchange it for a free serving of mango ice cream at designated stores in Yujing, discounts on mango food dishes and purchase of mango gift packs.
Comments will be moderated. Keep comments relevant to the article. Remarks containing abusive and obscene language, personal attacks of any kind or promotion will be removed and the user banned. Final decision will be at the discretion of the Taipei Times.