Jiang hopeful of Chinese landing visas to islands
Premier Jiang Yi-huah (江宜樺) yesterday said he hoped that landing visa privileges for Chinese tourists to the outlying islands of Kinmen, Penghu and Matsu could be put into force soon.
Jiang, who was visiting Kinmen, was responding to an appeal from the Kinmen County Government for the government to coordinate with Beijing authorities to allow more Chinese to visit Kinmen.
"There are no legal hurdles to providing landing visas to Chinese tourists to Kinmen, Penghu and Matsu," Jiang said.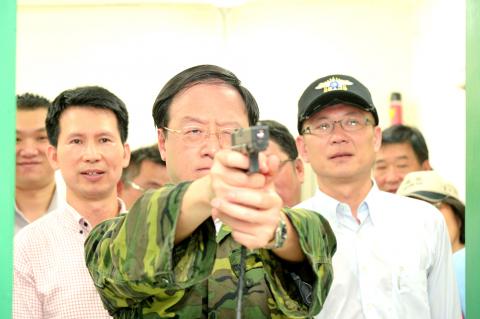 Premier Jiang Yi-huah shoots an electric pistol at an electronic gun range during a trip to Kinmen County yesterday to inspect the island's tourism industry.
Photo: CNA
However, he added that there could be some problems and he had asked the National Immigration Agency and the Tourism Bureau to look into the matter.
During an inspection tour around the county, Jiang the central and the local governments would work together on Kinmen's development.
The premier said Kinmen has many distinctive features that cannot be found in Taiwan, such as historic battlegrounds and military facilities. Describing Kinmen as a valuable and clean part of Taiwan, he said people on Taiwan proper are indebted to the island county.
The government will do its best to help the local government develop the county to make it "the nation's and even the world's top destination for tourism," Jiang said.
Kinmen County Commissioner Li Wo-shi (李沃士) said the military tourism resources in the county are unique, and he expressed hope that the Executive Yuan could help with increasing the number of flights serving Kinmen. The island attracted 1.1 million visitors last year.
Jiang later presided over a handover ceremony for the two frontline islets of Dadan (大膽) and Erdan (二膽) from the military to the Kinmen County Government.
Located just more than 4km from the Chinese city of Xiamen, Dadan and Erdan were once known as "the frontline of the frontlines."
After the handover of Dadan and Erdan, the military is expected to reduce its presence and turn over security of the islets to the Coast Guard Administration and the police.
Dadan and Erdan have areas of 0.79km2 and 0.28km2 respectively.
Comments will be moderated. Keep comments relevant to the article. Remarks containing abusive and obscene language, personal attacks of any kind or promotion will be removed and the user banned. Final decision will be at the discretion of the Taipei Times.