Agency updates seabird bycatch plan
The Fisheries Agency yesterday unveiled an updated national action plan to reduce the incidental catch of seabirds in the nation's longline tuna fisheries to protect albatrosses and petrels, among others.
The agency said that, as one of the major tuna longline fisheries countries in the world, Taiwan has more than 1,000 longline vessels operating across three oceans that unintentionally affect seabird populations.
To reduce the bycatch of seabirds during fishing, the agency said that it developed the first edition of its National Plan of Action on Seabirds in 2006 in accordance with that adopted by the UN's Food and Agriculture Organization.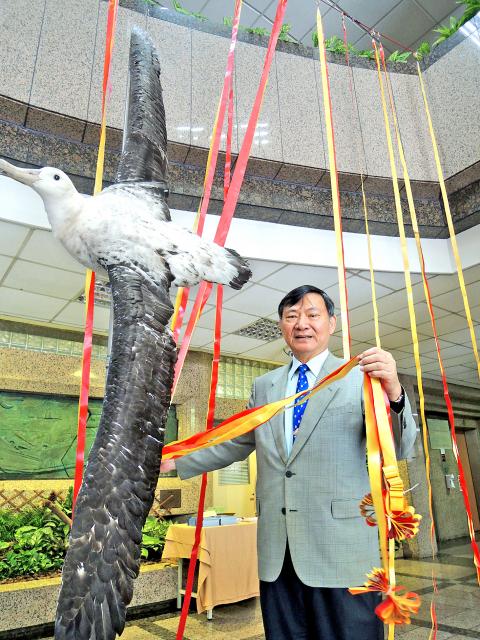 Fisheries Agency Director-General James Sha stands next to a stuffed wandering albatross in the Council of Agriculture building in Taipei yesterday.
Photo: Hsieh Wen-hua, Taipei Times
The agency updated its plan this year.
Fisheries Agency Director-General James Sha (沙志一) said that the agency has instructed fishing vessels to install two "bird-scaring" lines since 2006, reducing seabird bycatch by 50 percent.
He said that the new edition of the action plan would also require vessels to select at least two of the three other chosen methods to further reduce incidents of seabird bycatch.
Apart from installation of bird-scaring lines, fishing vessels might install weighted branch lines or choose to set up baits at night.
Nanhua University assistant professor Yeh Yu-min (葉裕民) said that the long-distance fishing fleet first extend a main fishing line, and the baits, such as pacific saury, are hung on the hooks of branch lines under the main line.
She said that albatrosses and other seabirds quickly eat those baits before the branch lines are submerged, adding that the hooks on the branches could result in the unintended catch of these birds. Unable to get themselves off the hooks, the birds drown.
"The bird-scaring lines will cause the birds to fly away from the fishing boats," she said. "The branch lines will go under the sea faster if they are attached with lead blocks."
Setting baits at night would prevent seabirds from approaching because they cannot see the baits, the agency said.
Comments will be moderated. Keep comments relevant to the article. Remarks containing abusive and obscene language, personal attacks of any kind or promotion will be removed and the user banned. Final decision will be at the discretion of the Taipei Times.