Prison reform programs produce high income, art
Prison reform programs, ranging from making soy sauce to creating works of art or doing woodwork, have often garnered positive feedback from society and are constantly breaking annual income records at their respective prisons.
According to the Agency of Corrections, the total income from produce sales for all prisons across the nation exceeded NT$460 million (US$15 million) last year, exceeding the total income of 2012 by 13 percent.
The Taipei Prison, known for its dried tofu products, grossed NT$36 million last year from its various products, with its "customized products" getting the most attention.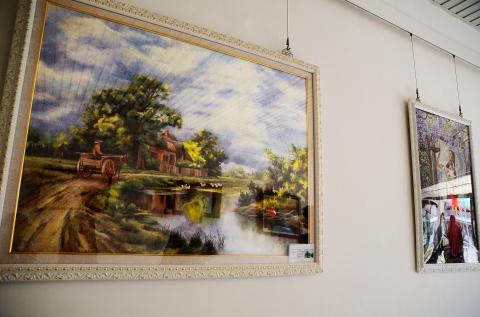 Some of Taipei Prison inmates' sand drawing works are exhibited at the prison on April 29.
Photo: Cheng Shu-ting, Taipei Times
According to Taipei Prison Secretary Chiu Ming-wei (邱明偉), the inmates used manual labor to custom-make products as requested by civilians, adding that the prison often received requests to have family photographs reproduced in sand drawings.
The prison included sand drawings as part of its reform-program products in 2012.
There is no limit on the type of products which can be requested, Chiu said, and the prison has 18 different workshops for different kinds of products, including carpentry, ceramic art and sand drawings.
The prison initially only accepted requests for woodwork and ceramic products, limiting the choice to wooden furniture, portrait frames, tea tables, ceramic-plate paintings and flower vases, but last year hardwood furniture fitted together with mortise and tenon joints were added to the list, he added.
The prison earns between NT$200,000 and NT$300,000 every month from woodwork products alone, Chiu said.
Although ceramic arts — which involve molding, imprinting, burning and glazing — are more technique-heavy and require more manpower, which means it takes longer to manufacture the requested items, there are still no shortage of people calling in to place orders, he said.
The prison gets an income of NT$50,000 to NT$80,000 per month from ceramic arts, he added.
Governmental organizations also often place special orders for sand drawings as a special gift to some of their visitors, Chiu said.
As sand drawings pay great attention to detail and use many colors, making each drawing is an extended process requiring 30 to 40 days to finish, depending on the drawings' complexity and size, he added.
The prison has an exhibition hall where many works produced by inmates are put up to be admired.
The drawings cover a large variety of subjects, like animals, people and even scenes of natural beauty, Chiu said.
The more exquisite the details of each drawing, the more work has to be put into the artwork by the inmates, and each drawing is worth its weight in gold, he said.
Chiu added that some of his colleagues, upon hearing that they would be transferred to other facilities, even ordered a sand drawing to remember their stay at the prison.
Comments will be moderated. Keep comments relevant to the article. Remarks containing abusive and obscene language, personal attacks of any kind or promotion will be removed and the user banned. Final decision will be at the discretion of the Taipei Times.