Protesters slam KMT over pact
STAYING PUT: Opponents of the cross-strait service trade agreement staged an impromptu sit-in in front of the legislature in Taipei and issued six demands
Advocates and dozens of civic groups yesterday condemned the Chinese Nationalist Party (KMT) caucus for sending the cross-strait service trade agreement to a plenary session without it being screened, adding that President Ma Ying-jeou (馬英九) and the KMT "have declared war on Taiwan's democracy."
In a joint meeting of eight legislative committees to review the controversial pact, yesterday's agenda was put forth by the KMT caucus, leading the Democratic Progressive Party to criticize the ruling party for "forcing" a final vote on the agreement — one the KMT would be sure to win.
"If that's the case, Taiwanese have no choice but to declare war on Ma and lawmakers who know nothing but loyalty to Ma," Huang Kuo-chang (黃國昌), a research fellow at Academia Sinica, said yesterday evening.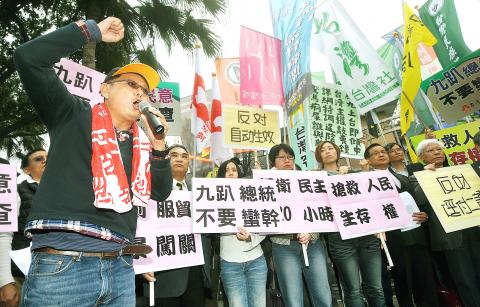 Civic groups protest outside the Legislative Yuan in Taipei yesterday against the Chinese Nationalist Party (KMT) caucus for sending the cross-strait service trade agreement to a plenary session without it being screened by committees.
Photo: Fang Pin-chao, Taipei Times
Earlier yesterday at a protest held in front of the Legislative Yuan in Taipei, the protesters gave Ma, Premier Jiang Yi-huah (江宜樺) and the KMT caucus a 24-hour deadline to agree to six demands about the controversial trade pact.
They demanded that the agreement should neither be directly sent for a second reading nor take effect automatically, also that the legislature review the agreement clause by clause and list the withdrawal or suspension of the pact as alternative options.
"We could hardly believe that Ma and the KMT have done this on the first day [of a three-day review session]. We will immediately stage a sit-in here until Ma and the KMT make an appropriate response to our demands," Lai Chung-chiang (賴中強), convener of the Democratic Front Against Cross-strait Trade in Services Agreement, told a press conference in front of the legislature yesterday evening.
The protesters called for a line-by-line review of the deal and adjustments to mitigate the possible damage to local businesses.
"With more than 70 percent of the people supporting a clause-by-clause review [of the pact], we think that a president with a 9 percent support rate has no right to unilaterally decide Taiwan's future," Lai said, adding that the KMT's disregard of mainstream public opinion was a failure of Taiwan's democracy.
"It is obvious to me that Ma has forced Taiwanese to search for an 'outside-the-system' solution, so that is what we're going to do," said Hsu Wei-chun (徐偉群), convener of Taiwan Democracy Watch.
Additional reporting by CNA
Comments will be moderated. Keep comments relevant to the article. Remarks containing abusive and obscene language, personal attacks of any kind or promotion will be removed and the user banned. Final decision will be at the discretion of the Taipei Times.