Lee disapproves of Ma-Xi APEC meeting proposal
Former president Lee Teng-hui (李登輝) yesterday disapproved of President Ma Ying-jeou's (馬英九) strategy to suggest the leaders' meeting in the APEC forum as an occasion to meet with Chinese President Xi Jinping (習近平).
Whether Taiwan's president is able to be present at an APEC summit is not only contingent on China, but also on a decision by all APEC members, Lee said.
Lee made the remarks in Taipei yesterday in response to reporters' questions about the possibility that Ma might meet with Xi at this year's APEC summit to be hosted in Beijing.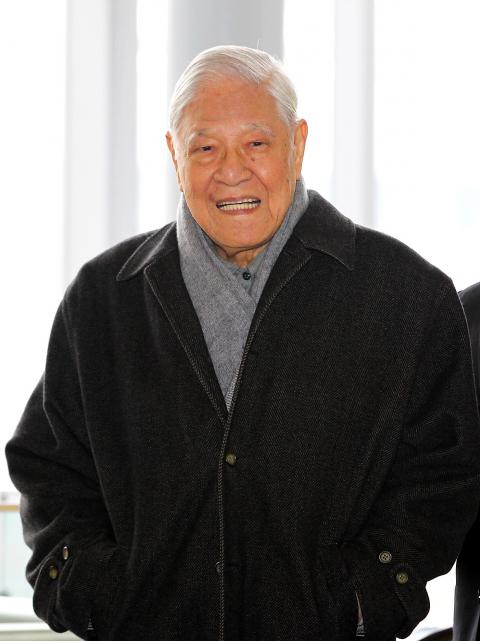 Former president Lee Teng-hui attends at a book launch in Taipei yesterday.
Photo: CNA
Since APEC began to hold its informal leaders' meeting in 1993, Taiwan has never sent its president to the summit, instead sending representatives to act as envoys.
Lee said he perceived it to be more important that Taiwan focuses on raising its economic stature so that all APEC members would invite Taiwan's president to attend APEC summit rather than focusing on China's opposition to a Taiwanese leader's participation.
Meanwhile, Lee again addressed the rumor that he had sought to meet with then-Chinese president Jiang Zemin (江澤民) at sea when he was president.
The idea of him meeting with Jiang was suggested by Evergreen Group founder Chang Yung-fa (張榮發), who said that such a meeting could take place on an Evergreen ship because the group was planning to build a wharf as its base in China, Lee said.
Lee said he rejected Chang's idea to his face, partly because Chang's motivation was to make more profits for Evergreen Group in China and partly because Jiang, responsible for firing missiles off Taiwan's coast in 1995 and 1996 (known as the Taiwan Strait missile crisis) had "never been nice to Taiwan."
Comments will be moderated. Keep comments relevant to the article. Remarks containing abusive and obscene language, personal attacks of any kind or promotion will be removed and the user banned. Final decision will be at the discretion of the Taipei Times.