Rainbow Park opened to public
The Rainbow Park in Greater Taichung, which includes the veterans' villages in Nantun District (南屯), was yesterday officially opened to the public.
The villages — Taimao Fifth Village (台貿五村), Kancheng Sixth Village (干城六村) and Matzu Second Village (馬祖二村) — originally housed the family members of army officials based at Chenggong Ling (成功嶺), the armor corps, the Ministry of National Defense (MND) and at Matzu Defense Headquarters.
After the government implemented a new veterans' villages restructuring policy in 2000, the villages' population steadily declined, and Huang Yung-fu (黃永阜), a village resident originating from Guangdong Province, decided in 2008 to take up his paint brush as his friends have either moved or have passed away.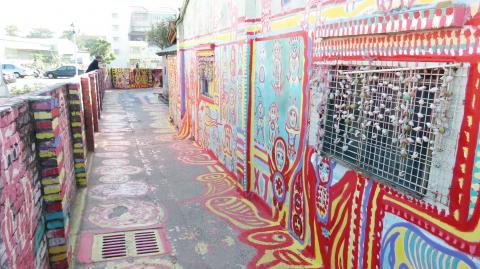 Decorated walls in the Greater Taichung Rainbow Park are pictured yesterday.
Photo: Su Chin-feng, Taipei Times
Although he had no formal training, Huang painted whatever came to mind and used the walls as his canvas.
Over time, the houses in the villages looked less like deserted buildings and more like houses from a fairy tale.
The painted houses were discovered by Tsia Ko-ssu (蔡克斯), a student at Hungkuang University, who started an online petition campaign in an effort to preserve the buildings.
By 2010 the campaign had 80,000 netizens' support, and in October that year Greater Taichung Mayor Jason Hu (胡志強) decided to subsidize the preservation of the buildings under cityscape planning, turning the areas surrounding the villages into a park.
Great Taichung Deputy Mayor Tsai Ping-kun (蔡炳坤) said yesterday that Huang's paintings have made history by changing the municipal government's mind through their very existence, adding that the park would be the first of its kind within the municipality.
Some paint shop owners have said that they would provide paint so Huang can continue his work.
In response, Huang said that he was thankful for all the support and welcomed residents of the municipality, as well as other cities, to come visit the park.
Comments will be moderated. Keep comments relevant to the article. Remarks containing abusive and obscene language, personal attacks of any kind or promotion will be removed and the user banned. Final decision will be at the discretion of the Taipei Times.