Story of Fukushima's animals told at event
FORGOTTEN LIVES: After Japan's Fukushima Dai-ichi Nuclear Power Plant disaster, many animals starved as they waited for their owners to return, Yosusuke Ota said
Yosusuke Ota, a Japanese photographer who documented animals left behind in the 20km exclusion zone surrounding Japan's Fukushima Dai-ichi nuclear power plant after the earthquake and tsunami in March 2011, spoke about his experience with the audience at an anti-nuclear film festival in Taipei yesterday.
The photograph exhibition, "The Abandoned Animals of Fukushima" — showing at the Zero-Nuke Festival hosted by the Green Citizens' Action Alliance in Taipei's Songshan Cultural and Creative Park — portrays the plight of pet and farm animals in the aftermath of the disaster.
In the photographs the animals are still trying to survive in the disaster-struck area from which residents have all been forcibly evacuated: Dogs or cats wander the ruins of residential houses, an ostrich stands in the middle of an empty street, and pigs escaped from barns cool themselves in puddles on the road.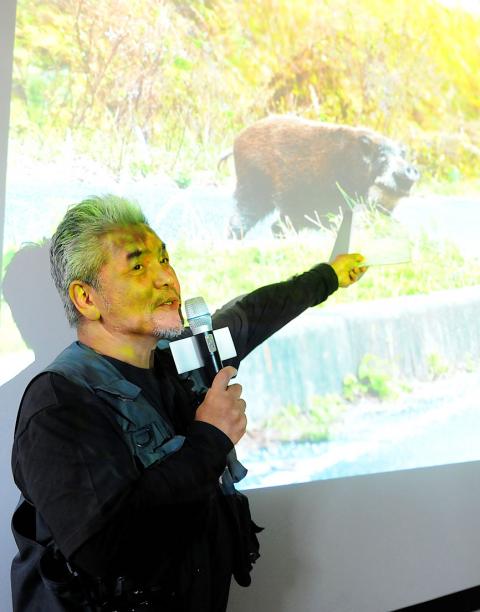 Yosusuke Ota, a Japanese photographer who documented animals left behind in the area surrounding Japan's Fukushima Dai-ichi Nuclear Power Plant after the March 2011 earthquake and tsunami, points to a picture in Taipei yesterday.
Photo: Wang Min-wei, Taipei Times
Corpses of animals that died of hunger or illness are scattered across the landscape.
Ota has also published two documentary photobooks, The Animals Left Behind and The Animals Still Waiting.
Ota said it was his love for cats that first drove him to enter the area to capture images of pets and farm animals left behind, but what he observed affected him far more than he had expected, and started him thinking about what he could do to help them.
Showing a video clip of his first trip to a cow barn, he said what he had seen was "like hell," and while a few cows had already died of hunger or thirst, one remaining cow moaned loudly and painfully, as if expecting food from him.
Helplessness and a sense of sorrow overtook Ota and other visitors who tried to feed or give water to the animals they saw.
Ota said some pets died because they were chained up or kept in cages and some starved because they stayed in their houses as if waiting for their owners to return.
While showing a photograph of a sign that read "an area for good living," Ota added that the place has become "a place to which people never return."
Ota has continued to sneak into the evacuation zone with volunteers to document and help the animals. He said that after two years, cats are the main survivors as most dogs have died and most pigs and cows either died of hunger and illness or were culled by the government.
Less than half of the more than 5,000 dogs living in the area were saved and about 350 of the original 3,500 cows in the area are gathered at a 32-hectare ranch that the volunteers call the "Ranch of Hope."
However, volunteers say that since cow feed is expensive, they do not know how long the rescue project can continue.
As for Ota himself, after experimenting with different ways to feed the remaining cats in the area, he finally set up 41 feed boxes and provides feed three times a month at his own expense.
Comments will be moderated. Keep comments relevant to the article. Remarks containing abusive and obscene language, personal attacks of any kind or promotion will be removed and the user banned. Final decision will be at the discretion of the Taipei Times.