Cloud Gate 2 premiers 'On the Road' in New York
Cloud Gate 2 (雲門2) returned to the Joyce Theater in New York on Wednesday night with the US premiere of the award-winning On the Road.
Choreographed by the troupe's associate artistic director Cheng Tsung-lung (鄭宗龍), the piece won Cheng the Taishin Arts Award for Performing Arts in May last year and Best Group at Premio Roma Danza's 1st International Choreographic Competition in July 2011.
The piece features elements from contemporary dance and Taiwanese religious rituals based on those of traditional temples, which Cheng hopes can offer audiences a unique way of experiencing two art forms and two cultures at once.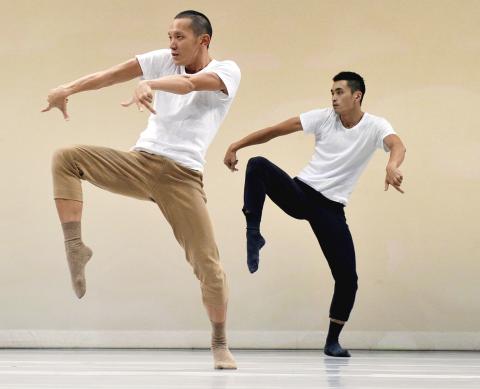 Dancers with Cloud Gate 2, one of Taiwan's most highly regarded performance companies, perform a scene from On the Road during a dress rehearsal at the Joyce Theater in New York on Wednesday.
Photo: AFP
"It is clear and simple in the best way possible. You understand his intent from the moment you see it," Joyce Theater executive director Linda Shelton said after Wednesday night's show.
Shelton, who was a judge for for last year's Taishin Arts Awards, was impressed by the piece, which she said merges light and shadow with rich and inventive movement.
Cheng said the inspiration for the piece, which fuses Eastern and Western elements, came to him in 2010, when he was literally "on the road" traveling in China's Yunnan Province with two Cloud Gate 2 dancers, Chiang Pao-shu (江保樹) and Luo Sih-wei (駱思維).
Although the three men share similar backgrounds, they have different personalities, Cheng said, describing Luo as a perfectionist and Chiang as more laid back. Their similarities and differences helped Cheng to see different sides of himself, he said.
The score combines Taiwanese folk songs, traditional Naxi and Islamic music and Tom Waits songs.
On the Road is the second piece from Cloud Gate 2 to be put on at the Joyce Theater, where it will run through Sunday. The troupe made their New York debut in February last year, performing four works, including Cheng's The Wall.
Cloud Gate 2 was founded in 1999 by Cloud Gate Dance Theatre (雲門舞集) founder and artistic director Lin Hwai-min (林懷民) and prominent dancer and teacher Lo Man-fei (羅曼菲).
Comments will be moderated. Keep comments relevant to the article. Remarks containing abusive and obscene language, personal attacks of any kind or promotion will be removed and the user banned. Final decision will be at the discretion of the Taipei Times.