Dancers proud of national identity
China's rise has attracted an increasing number of Taiwanese entertainers and businesspeople to the world's second-largest economy, and while some are willing to gain fame and fortune at the expense of their national identity, an 11-year-old professional ballroom dancer and her father say nothing is worth such sacrifice.
Cheng Yu-hsin (鄭玉歆) has been dubbed the "little ballroom dancing diva" after she staged a duo performance with her father, Cheng Chu-hung (鄭竹宏), also a professional ballroom dancer, on a Taiwanese talent show and bagged the championship.
Cheng Yu-hsin started learning ballroom dancing at the age of six and won her first medal at age eight.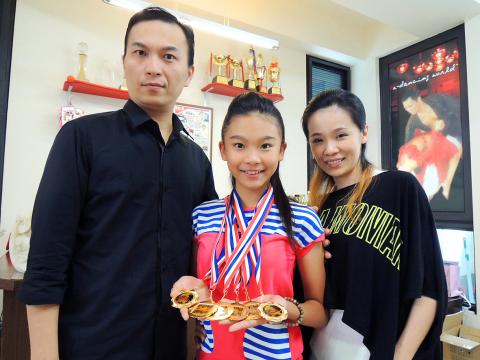 "Little ballroom dancing diva" Cheng Yu-hsin, center, accompanied by her father, Cheng Chu-hung, and mother, Huang Tzu-ling, shows some of her medals in Greater Kaohsiung on Tuesday.
Photo: Wang Jung-hsiang, Taipei Times
Over the course of the past three years, the 11-year-old has added more than 200 medals to her list of accolades, including six gold medals at this year's World Chinese Cup International Standard Dance Transnational Invitational.
However, the Chengs faced a crossroad in December last year when they were invited to perform in a Chinese talent show, China's Got Talent (中國達人秀), in Shanghai.
"Everything had gone smoothly until a few minutes before my husband and daughter were supposed to go on stage," Cheng Chu-hung's wife, Huang Tzu-ling (黃子玲), said earlier this week.
"The show's director and some staff suddenly asked them to say in the preview to their performance that they came from 'China, Kaohsiung' (中國高雄), otherwise the part featuring them could be edited out," Huang said.
Huang added that the director also tried to persuade them by saying repeatedly that they stood a good chance of getting the judges' approval and that they could even earn the opportunity to launch a performance tour.
Although making an appearance on the show would have guaranteed them a shot at fame, the father and daughter decided to follow their hearts and tell the live audience that "we come from Taiwan Kaohsiung," Huang said.
Huang said the statement apparently displeased the program's director and staff members, as of the four judges on the talent show — including Taiwanese singer Annie Yi (伊能靜), Hong Kong superstar Leon Lai (黎明) and two Chinese entertainers — only Yi gave the Chengs her approval, while one of them even blatantly told the pair that "he simply doesn't want to give them his approval."
"The incident involving Aboriginal Taiwanese singer Yeh Wei-ting's (葉瑋庭) made me realize the predicaments faced by most Taiwanese entertainers wanting to make a name for themselves in China, but I'm glad I chose to stick to my beliefs," Cheng Chu-hung said.
Cheng Chu-hung was referring to the controversial statement Yeh made last month on the Chinese talent show The Voice of China (中國好聲音), in which she said she came from "China Taipei Pingtung District" (中國台北屏東區).
Comments will be moderated. Keep comments relevant to the article. Remarks containing abusive and obscene language, personal attacks of any kind or promotion will be removed and the user banned. Final decision will be at the discretion of the Taipei Times.