Bomb case suspect spills details of plan
FALL GUY: Police said the main suspect in the case may have planned to cover his tracks by blowing up a co-conspirator, adding that his motive needs investigation
The police said the preliminary results of the investigation into the explosive devices planted on a high-speed rail train and outside a lawmaker's office indicate that the main suspect may have intended for his co-conspirator to die in the incident.
Hu Tsung-hsien (胡宗賢) and Chu Ya-tong (朱亞東), the two prime suspects in the case, are alleged to have placed suitcases containing explosive devices on northbound high-speed rail train No. 616 and outside Chinese Nationalist Party (KMT) Legislator Lu Chia-chen's (盧嘉辰) New Taipei City (新北市), Tucheng District (土城) office on Friday last week before boarding a plane to China.
The two were apprehended in Zhuhai, Guangdong Province, and repatriated to Taiwan on Tuesday.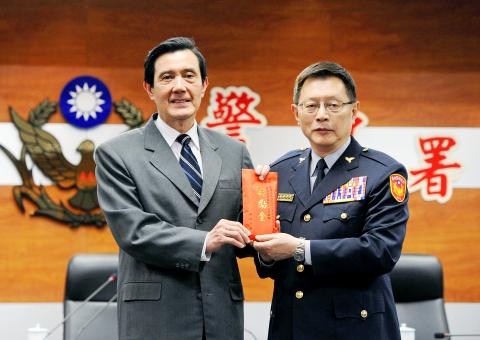 National Police Agency Director-General Wang Cho-chiun, right, yesterday receives a cash award from President Ma Ying-jeou on behalf of officers who helped track down the men alleged to have planted explosive devices on a high-speed rail train and outside a lawmaker's office.
Photo: CNA
During questioning on Wednesday night, Chu agreed to cooperate with investigators and to reveal what he knew of Hu's alleged plans after police made it clear how dangerous those plans had been to Chu himself.
Chu said he did not know the suitcases contained explosives until he smelled gasoline, adding that he had asked Hu after getting off the train whether the stakes were not too high.
"Hu did not answer my questionand continued with the plan to place the devices outside Lu's office," police reported Chu as saying.
Police said that Chu arrived at the station in Taichung as agreed by telephone on Tuesday and boarded the train — traveling from Zuoying (左營) to Taipei — with a ticket through to Hsinchu.
Hu had not explicitly told Chu to get off at Hsinchu, and it was only after Chu called Hu to tell him that hydrochloric acid had started leaking out of the suitcase and that he could smell gasoline that Hu told him to get off the train, police said.
The police said that the timing device in the suitcase had been set for 9:30am, and Chu got off the train at 9:26am, meaning that he only had a four-minute window to leave the area.
Chu said that after they arrived in the vicinity of Lu's office at 11:30am, Hu had not immediately planted the explosive device, but drove the car around for about an hour before telling Chu to drop off the suitcases at the door of Lu's office at about 12:30pm.
Video footage from surveillance cameras showed that the moment Chu placed the suitcases near Lu's office coincided with the time the devices had been set to explode.
Chu had been in great danger while placing the suitcases, police said, adding that they suspected that Hu had intended for Chu to take the fall for him.
Police said that if Chu had died Hu might have escaped arrest because of insufficient evidence, adding that it might have worked, as Chu was the last link in the plot.
Prior to discovering Chu's involvement, police discovered that the two alleged culprits had met with a man surnamed Shih (施) to obtain taxi permits from two brothers, surnamed Lai (賴), which they used to buy an SUV allegedly used in the incident.
As Hu is a lawyer of some renown in Taichung, prosecutors said that his motive — which Hu claimed was simple dissatisfaction with the state of society — needed further investigation, adding that they were removing the possibility of extortion as a motive, as he had not asked for money from the legislator or from Taiwan High Speed Rail Corp after placing the bombs.
The New Taipei City District Court approved prosecutors' request to detain the two suspects on Wednesday on grounds that the two — charged with attempted murder, violation of the Act on Controlling Guns, Ammunition and Knives (槍砲彈藥刀械管制條例), attempted sabotage of national public business and violation of the Public Safety Act (公共危險罪) — had committed heinous acts.
Comments will be moderated. Keep comments relevant to the article. Remarks containing abusive and obscene language, personal attacks of any kind or promotion will be removed and the user banned. Final decision will be at the discretion of the Taipei Times.