FEATURE: Taipei's graveyards are also some of its hottest tourist spots
On Tomb Sweeping Day, it is a tradition for people to visit family graves to honor deceased ancestors. In many parts of the nation, cemeteries are open to the public for viewing, with tour operators specializing in "visits to the underworld" — tours of burial grounds of historic figures and celebrities.
Around Taipei there are six "Graveyards of Renowned People," which have been designated historic sites. These include the tomb of General Pai Chung-hsi (白崇禧), the father of author Pai Hsien-yung (白先勇) and the man known as the "King of Shanxi Province," Yen Hsi-shan (閻錫山).
On Chongde Street in Taipei's Liuzhangli District (六張犁) among the hills is a public cemetery, where the grave of Chiang Wei-shui (蔣渭水) can be found.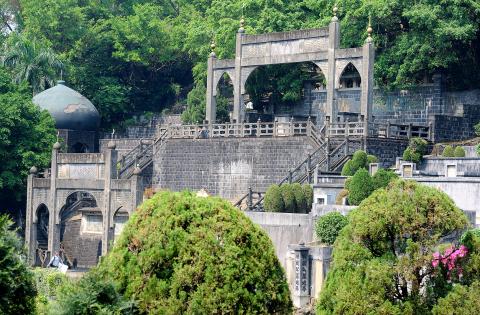 The tomb of General Pai Chung-hsi, father of author Pai Hsien-yung, is pictured in Taipei on March 7.
Photo: Liao Chen-huei, Taipei Times
Chiang, known as the "Sun Yat-sen of Taiwan," was a physician, an early leader of Taiwan's democracy movement and a pioneer of the pro-localization movement during the Japanese colonial period.
His grave has a simple layout, only about three by three meters, to reflect his honorable conduct, which is still admired and respected to this day. The grave was declared a historic monument last year.
Chiang's tombstone has a carved inscription reading "Grave of Revolutionary Martyr Chiang Wei-shui," by Chen Cheng (陳誠), who was vice president and premier at the time.
Below it is an inscription taken from Chiang's will: "All my comrades must fight on with diligence and determination, and old comrades must unite to become stronger."
During the Martial Law era, many democracy activists and leaders of social movements gathered in Liuzhangli public cemetery to conduct memorials. They used the occasions to rally supporters to fight against the oppression and authoritarian rule of the Chinese Nationalist Party (KMT) regime.
In the past few decades, the public cemetery also witnessed the development of a human rights movement in Taiwan.
In recent years, Taipei Medical University, which is located nearby, has chosen to conduct the conferring of the doctor's gown and taking of the physician's oath of its graduates in front of the graveyard, as a way to commemorate the honorable life of Chiang Wei-shui and his mission "to heal the people, heal their hearts, heal society and heal the nation."
Further along Chongde Street you come to Taipei's Muslim Cemetery. In its confines is a grand memorial arch overlooking the distant mountains. It is the resting place of the wartime hero General Pai Chung-hsi, along with his wife, Ma Pei-chang (馬佩璋).
Also called the "Graveyard of the White Banyan Tree Hall," it is a rare Muslim cemetery of a sizeable scale. It was built incorporating elements of a mosque dome, minarets and a prayer tower, along with steles with inscriptions by politicians and other historic figures. Taiwanese Muslims can often be seen visiting to pay their respects.
Another public cemetery has the grave of Yen Hsi-shan (閻錫山), who was once premier and minister of national defense. The grave is on Yunggong Road in Taipei's Shilin District (士林).
Together with Yen's old house, which lies a short distance away, it has been declared an historic site by the Taipei City Government. It is a required stop for visiting Chinese tourist groups from Shanxi Province.
There are also cemeteries dating back more than 100 years to the Qing Dynasty. Among these, the grave of Lin Hsiu-chun (林秀俊) is located near Tiding Boulevard, next to the Keelung River.
His grave is surrounded by a large grassy pasture, making it look like a small, natural park.
Lin was a pioneer of irrigation channel networks and he built the "Daan Waterway" in Taipei. His grave is one of the few remaining well-preserved examples from the Qing Dynasty.
The two other Taipei cemeteries from this historic period are for the graves of Pan Kung-chou (潘宮籌) and Wang Yi-de (王義德).
Pan Kung-chou was a civic leader of immigrants from Changzhou, Fujian Province, who settled in the Taipei Basin area during the Qing Dynasty. During his lifetime, he held the post of second-rank civil service mandarin, a high official position at the time. He was posthumously promoted to the first rank after his death.
Wang owned a trading company and his family is linked to the development of old Taipei's Mengjia neighborhood (艋舺), the old name for Wanhua District (萬華).
His grave is located inside the "202 Arsenal" in Taipei's Nangang District (南港).
As it was in a restricted-access zone under military control, it had an added air of mystique and secrecy.
Comments will be moderated. Keep comments relevant to the article. Remarks containing abusive and obscene language, personal attacks of any kind or promotion will be removed and the user banned. Final decision will be at the discretion of the Taipei Times.