Runner finishes Arctic marathon
TRIALS AND TRIBULATIONS: The ultramarathon runner survived temperatures of minus-53°C, frozen clothing and numerous physical ailments to finish in fifth place
Overcoming not only the harsh terrain, but also the climate and physical conditions, Taiwanese ultramarathon runner Tommy Chen (陳彥博) on Thursday completed the 700km Yukon Arctic Ultramarathon across Yukon Territory in Canada on Thursday, making him the first Asian to finish the race.
"Eleven days! It took eleven days! I crossed snow-covered natural terrace that seems to have no end, going through forests, countless glaciers, mountains after mountains, I have finally reached Dowson at the end of the 700km course," Chen announced in a post on his Facebook page. "Thank you everyone for your warm words! This is the most difficult arctic ultramarathon in the whole world! But we made it!"
Along with 28 other athletes, Chen took part in the race on foot, while some chose to complete on mountain bikes or cross-country skis.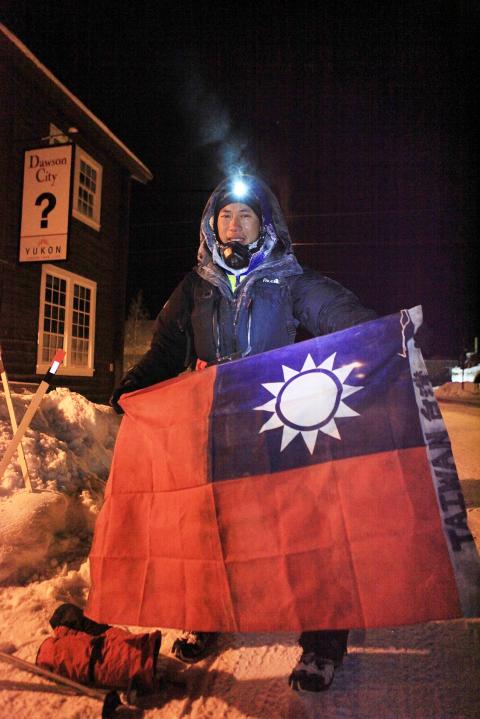 Ultramarathon runner Tommy Chen poses for a photograph with the national flag after he completed the Yukon Arctic Ultramarathon in Canada on Thursday.
Photo: provided by Tommy Chen, CNA
During the 13-day race — which Chen took only 11 days to complete — he not only had to overcome the extreme weather and landscape, he also suffered from fatigue, swollen ankles, coughing, headaches, frostbite and blisters.
"I will never forget departing from Indian River the night before [arriving at Dawson] to cross the most challenging landscape. A snowstorm hit at about 11pm, and all my clothes and jackets were frozen within three minutes," Chen recounted in his Facebook message.
"I immediately set up my tent, and hid in my sleeping bag, but it was still so cold that I was shaking for more than two hours. I was so afraid, I was so afraid that I would just die," he added.
"I missed home, I wanted to go home, it was minus-53°C, and polar lights were flashing, telling me to go on, to live on, and to keep on walking," he added.
Chen survived the night and completed the race in fifth place.
He said that, during the race, he was at the edge of mental collapse several times as he sometimes had only two hours sleep a night and sometimes stayed awake for as many as 36 hours.
He said he thought about giving up, but he persevered.
"At the finish line, I was relieved and could not hold it anymore, I started to cry out aloud, I couldn't believe that I actually finished," Chen said.
At his hotel in Dawson, Chen said he slept for two days, but was woken several times by physical pains — and dreams that he was sleeping on freezing snow-covered terraces.
Currently under treatment for sports injuries, Chen said that he is scheduled to return to Taiwan on Feb. 27.
Comments will be moderated. Keep comments relevant to the article. Remarks containing abusive and obscene language, personal attacks of any kind or promotion will be removed and the user banned. Final decision will be at the discretion of the Taipei Times.