University awards famed primatologist Jane Goodall
National Tsing Hua University in Hsinchu yesterday awarded an honorary degree to famed British primatologist and conservation icon Jane Goodall for her long-time dedication to chimpanzee research and animal conservation.
Chen Li-chun (陳力俊) expressed the hope that National Tsing Hua University students would be inspired by the 78-year-old, who is known for her study of chimpanzees and her efforts to promote animal welfare.
After expressing gratitude to the university for conferring the degree upon her, Goodall called on people to take action to restore the environment.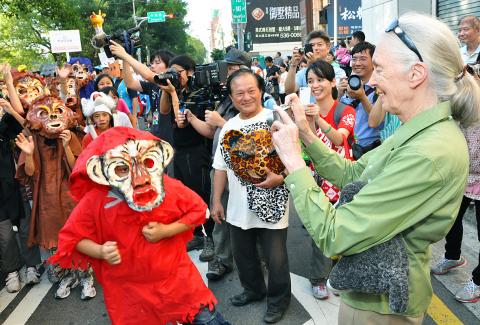 British primatologist Jane Goodall takes a picture of a member of the public dressed as a chimpanzee during a visit to Hsinchu Zoo yesterday.
Photo: CNA
Goodall, on her 13th trip to Taiwan, said on Friday that the country could capitalize on its advanced technology, vibrant social movements and extensive business network to contribute to environmental protection in the Chinese-speaking world.
Having worked with numerous Taiwanese schools over the past five years to set up projects for young people to change the world for the better, Goodall said the strong motivation of young people always keeps her inspired.
Meanwhile, under the "Green Thumb Project," organized by the Jane Goodall Institute of Taiwan, about 70 schools in Taiwan are to work with the Forestry Bureau to plant trees to highlight the importance of biological diversity.
"Every single one of us can make a difference every single day," Goodall said. "It's not just a program: It's a way of life."
Lin Kuo-chang (林國彰), director of the Forestry Bureau's Wildlife Conservation Section, said the Green Thumb team is planning to plant about 100,000 seeds per year for "as long as the schools exist."
"We don't expect it to be a short-term project. After planting the seeds, our staff need to go back to see how the trees are doing," Lin said.
Comments will be moderated. Keep comments relevant to the article. Remarks containing abusive and obscene language, personal attacks of any kind or promotion will be removed and the user banned. Final decision will be at the discretion of the Taipei Times.