Golden Bells honor living and dead
DEARLY DEPARTED: Fu Pei-mei and Chang Mei-yao were given posthumous Golden Bells Special Awards, while Tao Da-wei was remembered with a video montage
The 47th Golden Bell Awards — Taiwan's version of the Emmys — opened yesterday evening at the Sun Yat-sen Memorial Hall with a star-studded red-carpet walk that drew a large crowd of fans.
As of press time, the awards winners announced included Cheng Chi-liang (鄭志良), Chiang Yi-ting (江依庭) and Chen Hsiao-tung (陳曉東) for the Best Film Editing Award for their work in Dear Mother Earth (跟著賴和去壯遊) and Lee Wei-chieh (李偉傑) winning the Best Photography Award for his work in The Oriental Honey Buzzards of Ninety Nine Peaks.
The Educational and Culture Award was given to Last Island — Defense of Taiwan 1950-1955 (最後島嶼 — 台灣防衛戰 1950-1955), part of the Movement over a Century series.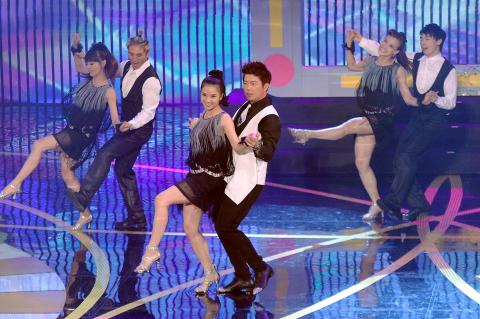 Performers dance on stage during the Golden Bell Awards at Sun Yat-sen Memorial Hall in Taipei last night.
Photo: Taipei Times
Best Mini-series TV/Movies Director Award was given to Chen Yu-chieh (陳鈺傑), director of The Thief (小偷) and Best Mini Series Scriptwriter Award was given to Tsai Yi-fen (蔡怡芬) and Chu Chia-lin (朱家麟) for The Princess and the Prince (公主與王子).
Lai Hsiao-yi (賴曉誼) received Best Female Support Actor Award for her role in You Can Do It, Dad! (爸爸,加油!) while Hsi Hsiang (喜翔) received the Best Male Supporting Actor Award for his role in the Old Street Rhapsody (老街狂想曲).
Best Mini-series TV/Movies Actor Award was given to Chen Chu-sheng (陳竹昇) for My Little Honey Moon (野蓮香) while Best Female Actor Award was won by Jade Chou (周幼婷) for her role in The Happy Life of Debbie (黛比的幸福生活).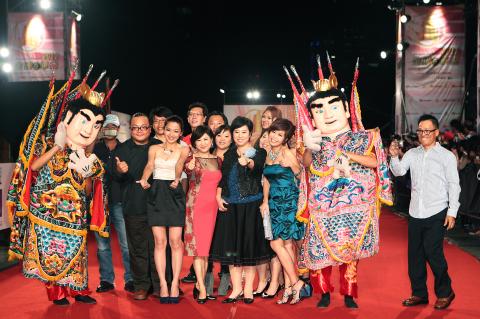 A group of individuals from the TV entertainment industry pose for a photograph on the red carpet at the Golden Bell Awards ceremony at Sun Yat-sen Memorial Hall in Taipei last night.
Photo: Taipei Times
The late Fu Pei-mei (傅培梅), who in 1962 became the first person to host a cooking show in Taiwan, and remembered for her many delicious dishes taught on air and a subsequent series of cookbooks, was posthumously awarded the Golden Bells Special Award.
Fu's daughter, Cheng An-chi (程安琪), said the posthumous award left "mother without any regrets,"adding that Fu had mentioned her only regret in life was her application for the Special Award had been rejected the year she had applied.
Chang Mei-yao (張美瑤), most known for her successful return to the film industry after a three-decade break, was also given a posthumous Golden Bell Special Award. Chang was best known for her role in Bangkok No Yoru (曼谷之夜) in 1966 and White Rose of Hong Kong (香港白玫瑰) in 1967.
Although there was no award for veteran entertainer Tao Da-wei (陶大偉), who passed away last month, his contribution to the industry was noted with a one-minute-long video montage.
Timothy Chao (曹啟泰) — an old acquaintance of Tao's — introduced the clip, which showed how Tao, through the vicissitudes of life, always kept smiling. As the clip ended, Chao was overcome with emotion and asked everyone to rise in silent tribute to Tao.
Comments will be moderated. Keep comments relevant to the article. Remarks containing abusive and obscene language, personal attacks of any kind or promotion will be removed and the user banned. Final decision will be at the discretion of the Taipei Times.