Former employee accuses HTC of labor malpractice
A man surnamed Chiu (邱) yesterday accused smartphone manufacturer HTC of illegally laying off hundreds of part-time workers in July.
Chiu was one of hundreds of part-time employees fired without warning by HTC, who never signed contracts with them, he said at a press conference organized by Democratic Progressive Party (DPP) Legislator Cheng Li-chiun (鄭麗君).
HTC recently sent him a text message requesting his emergency recruitment, Chiu said, adding that it made him feel the company thought of him like "human trash, without dignity."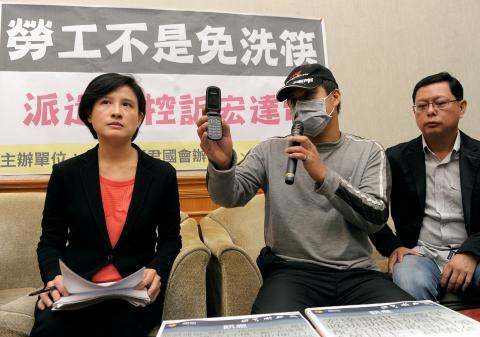 A man surnamed Chiu, center, holds up a cellphone at a press conference organized by Democratic Progressive Party Legislator Cheng Li-chiun, left, yesterday.
Photo: CNA
Chiu said he had worked at the company for nearly one year, for more than 12 hours each day, yet received no severance pay after being let go and did not qualify for unemployment benefits.
"Why is this company allowed to dismiss part-time workers at will?" he asked.
The company's conduct has hurt its image as a renowned international brand which values corporate social responsibility, Taiwan Labor Front secretary-general Sun Yu-lien (孫友聯) said.
Cheng said he suspected HTC was abusing cheap labor and part-time hiring since its need for manpower has been obvious, adding that the company had violated the Council Of Labor Affairs' regulations on part-time employment, which require written contracts for part-time employees and advance notice before said contract is terminated.
The lawmaker said that, as a company backed by the government, HTC should shoulder more social responsibility and the council should investigate temporary employment agencies for conducting illegal hiring practices.
Huang Chi-ya (黃琦雅) of the council's Department of Labor Relations said HTC had violated Article 16 of the Labor Standards Act (勞動基準法) by not giving Chiu a 10-day notice before firing him and that the council would launch a probe of the company. If violations are proven, the company would be facing a fine up to NT$300,000 (US$10,000).
Comments will be moderated. Keep comments relevant to the article. Remarks containing abusive and obscene language, personal attacks of any kind or promotion will be removed and the user banned. Final decision will be at the discretion of the Taipei Times.