Hau proposes visiting jailed ex-president
Taipei Mayor Hau Lung-bin (郝龍斌) yesterday said he would consider visiting former president Chen Shui-bian (陳水扁) if he is sent to a hospital in Taipei for treatment, after Taoyuan General Hospital suggested that Chen should be transferred to a major medical center for further check-ups.
Hau, who has expressed support for granting Chen medical parole, said yesterday that his stance on the issue had not changed, adding that a medical team should assess Chen's condition.
In a question-and-answer session at the Taipei City Council yesterday, Democratic Progressive Party (DPP) Taipei City councilors applauded Hau for his support on the issue and called on the mayor to provide security for the former president if he is sent to a medical center in Taipei.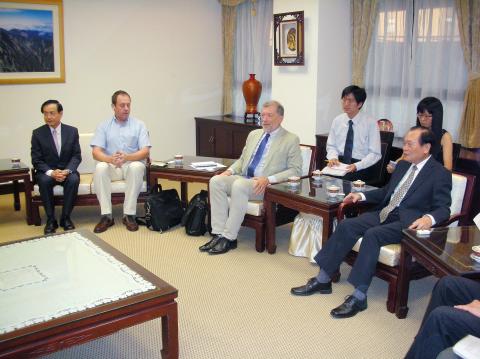 Human rights activists Harreld Dinkins and Hans Wahl, second and third from left, meet with Minister of Justice Tseng Yung-fu, right, at the ministry in Taipei yesterday to discuss the health of jailed former president Chen Shui-bian.
Photo: Hsiang Cheng-chen, Taipei Times
"Of course I will consider [visiting Chen if he is sent to a Taipei medical center]. It's not my authority to decide whether Chen should receive medical treatment in Taipei, but if he is sent to a hospital in this city, I believe related agencies and the hospital would take care of his safety," he said in response to a question from DPP Taipei City Councilor Tung Chung-yen (童仲彥).
DPP Taipei City councilors Wang Shih-chien (王世堅), Chuang Rui-hsiung (莊瑞雄) and Chiang Chih-ming (江志銘), among others, thanked Hau and said his proposal would help improve relations between the pan-blue and pan-green camps.
However, New Party Taipei City Councilor Vivian Huang (黃珊珊) questioned Hau's motives, alleging that the mayor had made the proposal for political gain, while acknowledging that Hau's endorsement of Chen's medical parole would boost his support.
"You are one of the Chinese Nationalist Party's [KMT] potential 2016 presidential candidates, and your next step after stepping down in 2014 is under great scrutiny. We all know that the endorsement will certainly make you popular among pan-green supporters," she said.
Hau said his endorsement of Chen's medical parole had nothing to do with the 2016 presidential elections.
Separately yesterday, human rights activists Hans Wahl and Harreld Dinkins visited Minster of Justice Tseng Yung-fu (曾勇夫) at the -ministry, accompanied by DPP legislators Mark Chen (陳唐山) and Hsu Tain-tsair (許添財), as well as Taiwan Solidarity Union legislators Hsu Chung-hsin (許忠信) and Lin Shih-chia (林世嘉).
Jack Healey, director of the Washington-based Human Rights Action Center, who was scheduled to lead the group of visitors, said in a press statement that he was unable to attend the visit because he had the flu.
Wahl and Dinkins, who visited the former president at Taoyuan General Hospital on Monday, held a closed-door meeting with Tseng.
According to the ministry, the two human rights activists met Tseng to learn about the state of Chen Shui-bian's health and the conditions of his imprisonment.
Meanwhile, Taoyuan General Hospital yesterday said it had arranged for Chen Shui-bian to undergo a neck ultrasound test and an eye exam.
On Friday, the hospital had found a 4mm-by-4mm trace of cerebral vascular trauma in his right frontal lobe, possibly indicating the former president had a minor stroke.
DPP Legislator Chen Chi-mai (陳其邁), who is a former Chang Guan Memorial Hospital doctor and who also visited the former president at the hospital, said during a political talk show on TV on Monday evening that there was not one, but seven or eight instances of cerebral vascular trauma, in Chen Shui-bian's frontal lobe
Chen Shui-bian, who is serving a 17-and-a-half-year sentence for corruption, was sent to Taoyuan General Hospital last Wednesday night after complaining of pain when urinating and was admitted for extensive examinations.
Comments will be moderated. Keep comments relevant to the article. Remarks containing abusive and obscene language, personal attacks of any kind or promotion will be removed and the user banned. Final decision will be at the discretion of the Taipei Times.