Chen health check shows no need for parole: prison
Taipei Prison yesterday arranged for former President Chen Shui-bian (陳水扁) to undergo a follow-up medical exam and said that the results showed that Chen was in good health and that he only needs medical treatment in the prison, as opposed to medical parole.
Chen underwent a follow-up at Taoyuan General Hospital yesterday morning.
A group of Chen's supporters gathered at the hospital lobby, shouting: "A-bian is innocent" when he arrived.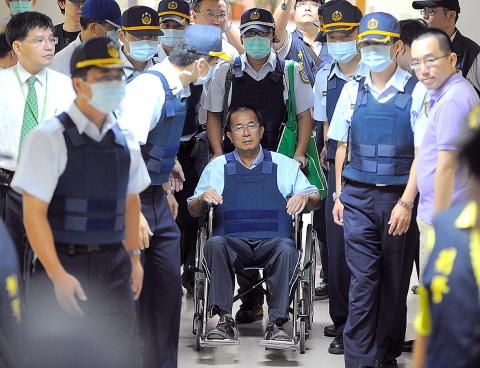 Former president Chen Shui-bian's son, Chen Chih-chung, first right, looks on yesterday as police officers take his father in a wheelchair for medical treatment at Taoyuan General Hospital.
Photo: Wang Min-wei, Taipei Times
Hospital deputy superintendent Hsu Jin-chyr (徐錦池) led doctors from the departments of gastroenterology, cardiology, general chest medicine and urology to examine Chen, Taipei Prison deputy warden Su Ching-chun (蘇清俊) said, adding that Chen underwent an electrocardiogram, CT scan, MRI scan, echocardiogram, chest X-ray, endoscopic sedation and other checkups.
Hsu reported the results to Chen after the exams were completed, Su said. Chen's son, Chen Chih-chung (陳致中), and Chen Shui-bian's doctor, Kuo Chang-feng (郭長豐), who oversaw the checkup, were also briefed, he added.
Su quoted Hsu as saying that the former president's heart, chest and lung functions were normal. His gastroesophageal reflux disease has improved, cholesterol reading dropped and he suffers only a slight inflammation of his urology system, Hsu was quoted as saying.
Doctors have ordered that Chen Shui-bian to take medicine and have follow-ups about every four to eight weeks to cure the urology problem, Su said, adding that his physical condition is good and that he does not qualify for medical parole.
Chen Shui-bian, serving a 17-and-a-half-year prison term on corruption charges, was transported from Taipei Prison to the hospital at about 6am and was returned to the prison at 10:30am.
Taiwan Solidarity Union Legislator Hsu Chun-hsin (許忠信), who accompanied Chen Shui-bian to the hospital, however, said the former president's physical and mental conditions were very feeble. Hsu expressed concern over Chen Shui-bian's physical and mental health should he remain imprisoned.
Political parties and various rights groups in Taiwan and the US have called on the government to release the former president on humanitarian grounds, saying that his conditions in prison are contributing to his deteriorating health.
Comments will be moderated. Keep comments relevant to the article. Remarks containing abusive and obscene language, personal attacks of any kind or promotion will be removed and the user banned. Final decision will be at the discretion of the Taipei Times.