DPP lawmakers decry series of price hikes
Taiwanese have found it difficult to guard their wallets after President Ma Ying-jeou's (馬英九) re-election, because almost everything has become more expensive, Democratic Progressive Party (DPP) lawmakers said yesterday.
"From gasoline to LPG [liquefied petroleum gas] to natural gas, and from fertilizer to tuition and health insurance ... you name it. The prices for all these things went up after Ma was re-elected," DPP Legislator Pan Men-an (潘孟安) told a press conference.
It is ironic that the Cabinet, led by Premier Sean Chen (陳冲), calls itself a "Cabinet of relief," which is supposed to strengthen the economy and enrich the people, he said.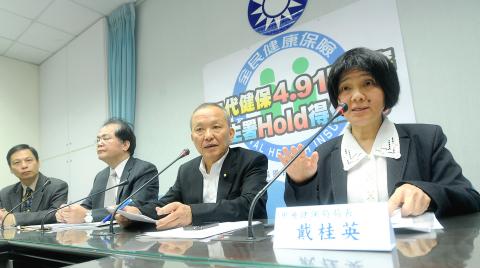 Bureau of National Health Insurance Director-General Day Guey-ing, right, responds to a question over the figure for national health insurance premiums during a press conference at the legislature in Taipei yesterday, saying that the figure has yet to be finalized.
Photo: Lin Cheng-kung, Taipei Times
Ma and former health minister Yaung Chih-liang (楊志良) had pledged that the fixed premium rate of 4.91 percent would be kept unchanged at least during the first five years of the second-generation National Health Insurance program, which is scheduled to come into effect in July, Pan said.
However, there are reports that the Department of Health is planning to adopt a higher rate, which would be a betrayal of Ma's pledge, he said.
The DPP caucus urged the government to stay true to its promise by keeping the rate unchanged and revising regulations to make premium fees proportional to incomes, he said.
DPP Legislator Chen Ting-fei (陳亭妃) said the department had pledged that the health insurance premium would not increase for at least 80 percent of the total insured population under the new system.
Healthcare spending is not the only thing people are worried about, she said, adding that the Ministry of Education is mulling an increase in college tuition next month and the Ministry of Economic Affairs is considering raising gasoline and electricity prices.
The Executive Yuan's citing of "market mechanisms" as the reason behind the hike is a "Taipei-centric perspective," which ignores the well-being of families with lower incomes, retired economics professor Kenneth Lin (林向愷) told a separate press conference.
The government also ignored the role of Taiwan Power Co and CPC Corp, Taiwan, both of which are state-controlled companies, Lin said.
"It would be difficult to accept the price increase with the opaque operations of these two companies," he said.
Lin ridiculed the government theory that mild inflation would benefit Taiwan's economy, saying that if Ma does not tackle the price increases, public anger would drag his approval ratings to a new low.
Comments will be moderated. Keep comments relevant to the article. Remarks containing abusive and obscene language, personal attacks of any kind or promotion will be removed and the user banned. Final decision will be at the discretion of the Taipei Times.