Leanness-enhancer bills face review
The legislature yesterday sent 10 draft bills on the use of leanness enhancers to one of its committees, which is set to deliberate on each proposal next week.
In addition to the 10 bills submitted by ruling and opposition lawmakers, the Social Welfare and Environmental Hygiene Committee had received four bills — including one proposed by the People First Party — on Friday last week.
Chinese Nationalist Party (KMT) Legislator Tsai Chin-lung (蔡錦隆), one of the committee's conveners, said the committee would review bills on amending the food safety law on Wednesday.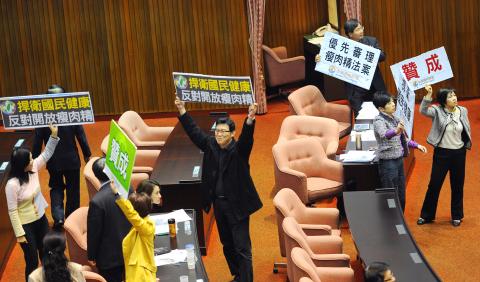 Taiwan Solidarity Union legislators hold up signs yesterday as they request that Article 11 of the Act Governing Food Sanitation be amended to explicitly ban ractopamine in the legislature.
Photo: Lo Pei-der, Taipei Times
The use of ractopamine, a feed additive banned in Taiwan and many other countries, but allowed in the US, has been a subject of hot debate, especially after the Cabinet announced late on Monday night that it was planning to conditionally relax its ban on imports of US beef containing the drug.
Among the bills sent for review yesterday, those submitted by the Democratic Progressive Party (DPP) caucus and several DPP lawmakers, along with one put forward by KMT Legislator Yang Li-huan (楊麗環), proposed a zero-tolerance stance on the level of leanness enhancers for meat products.
Bills submitted by DPP legislators Chen Ou-po (陳歐珀) and Chiu Chin-wei (邱志偉) called for mandatory labeling of drug residue levels on meat products and for the point of origin of products tol also be disclosed.
In addition, a bill by Taiwan Solidarity Union Legislator Lin Shih-chia (林世嘉) would give the legislature the power to review safety levels for pesticide and drug residue in food.
Comments will be moderated. Keep comments relevant to the article. Remarks containing abusive and obscene language, personal attacks of any kind or promotion will be removed and the user banned. Final decision will be at the discretion of the Taipei Times.