Bureau seeks to attract more Muslim tourists
MUSLIM-FRIENDLY: The Tourism Bureau said it hopes to increase the number of eateries certified to serve halal food to attract more visitors from Muslim nations
The Tourism Bureau yesterday said it aimed to have 50 restaurants certified as Muslim-friendly as it looks at options to further tap into the Muslim tourist market.
Eric Lin (林坤源), director of the bureau's international travel division, said Muslim tourists visiting Taiwan mainly come from Malaysia, Indonesia, Singapore, Brunei and northwest China.
The bureau hopes to see 10 percent growth in tourist arrivals from each of those countries this year, Lin said.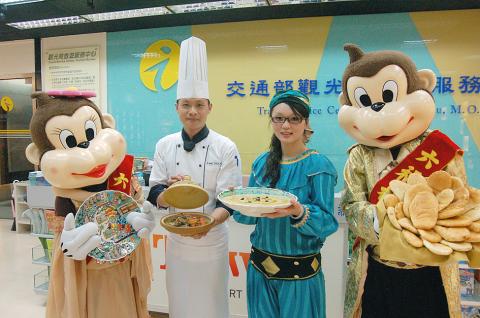 Staff from the Tourism Bureau and the Chinese Muslim Association display halal food in Taipei City yesterday. The bureau says Taiwan is receiving more Muslim tourists and that Taiwan needs to cater to Muslim eating habits.
Photo: Tseng Hung-ju, Taipei Times
The frequency of broadcasts of television commercials on traveling in Taiwan in Malaysia has increased, he said, adding that the bureau has also worked with travel agencies to organize tours.
"The nation drew about 6 million tourists last year," Lin said. "The population of Muslim countries is approximately 1.7 billion, which presents a high potential for international visitors."
The "Muslim-Friendly Restaurant" certification was handled by the Chinese Muslim Association.
Association secretary-general Salahuddin Ma Chao-yen (馬超彥) said the main purpose of the certification was to let Muslims around the world know that there are Muslims in Taiwan as well.
Based on the certification guidelines, restaurants must ensure that the food offered to Muslims is prepared according to Islamic law. The guidelines also have specific instructions for various items, ranging from buying from certified halal food suppliers and seasonings to cookware.
The service personnel must also receive training on the "dos and don'ts" of hosting according to Muslim customs.
Eleven restaurants nationwide have already been certified as Muslim-only businesses — which serve only halal food — while there are seven Muslim-friendly eateries — businesses that serve both halal and non-halal food.
Restaurants in some amusement parks, such as Leofoo Village Theme Park in Hsinchu County, are among those that have been certified.
Jozo Chen (陳怡穎), marketing specialist at Shangrila Leisure Farm in Yilan County, said the farm hosted about 1,000 Muslim tourists last year.
"Apart from the food, they [Muslim tourists] also require a separate dining area to eat," Chen said. "We must also have arrow signs [pointing to Mecca] for their daily prayers and proper washing facilities in the hotel rooms."
Chen said the cost of hosting Muslims is slightly higher than that of non-Muslim tourists, but the certification would help the hotel attract more tourists from Muslim nations.
Comments will be moderated. Keep comments relevant to the article. Remarks containing abusive and obscene language, personal attacks of any kind or promotion will be removed and the user banned. Final decision will be at the discretion of the Taipei Times.