US academic sees little progress in ties
CHINA POLICY: The US' preoccupation with other issues and ambivalence about its role in foreign affairs do not bode well for ties with Taiwan, Robert Sutter said
A new analysis of the US Congress' and President Barack Obama's China policy might not be good news for Taiwan.
Robert Sutter, professor of international affairs at George Washington University, concluded in an analysis published on Friday that Capitol Hill would have "more bark than bite" this year.
The US Congress remains preoccupied with other issues and is "ambivalent" about reasserting its role in foreign affairs and China policy, he wrote.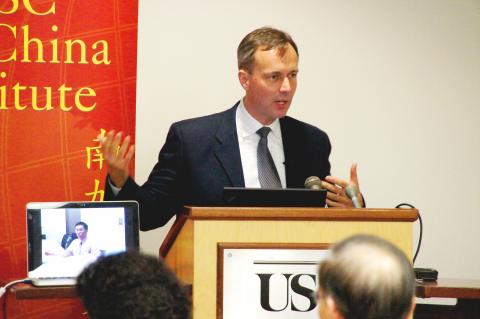 Daniel Lynch, associate professor of international relations at the University of Southern California, tells a forum in Los Angeles, California, yesterday, that President Ma Ying-jeou's re-election victory "almost certainly raised Beijing's expectations."
Photo: CNA
It does not bode well for a series of bills and resolutions promoting closer ties with Taiwan and urging Obama to change his policy and sell advanced F-16C/D jets to the country, he said.
Sutter said there was legislation in the US Senate and the House of Representatives challenging the Obama administration's efforts to maintain "moderate policies" toward China over currency manipulation, trade disputes and "arms sales and other support for Taiwan."
However, he predicted that congressional activism would not upset the president's policies.
"Many members of Congress have become keenly aware of the serious negative consequences for them and their constituents of strong US measures against Chinese trading and economic practices," Sutter wrote.
"US public opinion remains more negative than positive regarding the policies and practices of China, but it is not in a position, as it was in the aftermath of the Tiananmen crackdown, to prompt [a] serious negative change in US policy toward China," he said.
"The US public is somewhat anxious about Chinese economic and military power, but it eschews confrontation and does not support US actions that would lead to conflict with China over Taiwan," he said.
Sutter said that congressional critics of Obama's "reluctance" to sell advanced F-16s to Taiwan "are countered by defenders of the president's record of multibillion dollar sales to Taiwan amounting in three years to double the value of US arms sold to Taiwan in the eight years of the George W Bush administration."
"Taiwan used to be a formidable opponent of China on Capitol Hill. But its effort came to reflect the wide political divide in Taiwan domestic politics, with conflicting groups from Taiwan giving different messages to increasingly frustrated and confused congressional members with an interest in Taiwan," he said.
"The decline in the Taiwan lobbying of Congress continued under President Ma Ying-jeou (馬英九), whose administration relied more strongly on nurturing close relations with the US administration, giving less attention to Congress," he said.
"The most active and arguably most influential ethnic group dealing with the China issue, the Formosan Association for Public Affairs (FAPA), stresses Taiwan's right to self-determination in opposition to the China policies followed by the Taiwan government [under] President Ma," he said.
Published online by the Center for Strategic and International Studies (CSIS), the analysis comes as Foreign Affairs magazine — published by the US Council on Foreign Relations — is running an article saying that Beijing is "unlikely to tolerate Taiwan's de facto independence indefinitely."
Written by Daniel Lynch, an associate professor at the University of Southern California, the article says that Ma's re-election victory "almost certainly raised Beijing's expectations."
"China's leaders may pressure Ma to begin formally discussing Taiwan's political future. So, rather than stabilizing the cross-strait status quo, Ma's election might usher in a new period of instability in which Chinese demands on Taiwan intensify," Lynch wrote.
"Among other measures, Beijing might call upon Taiwan to stop purchasing weapons from the United States, phase out it institutionalized military ties with Washington, and formalize the [so-called] 1992 consensus into law," he said.
Lynch concluded that Ma probably has a one-year window to generate the kind of "Taiwan consensus" on cross-strait relations that Democratic Progressive Party Chairperson Tsai Ing-wen (蔡英文), the party's presidential candidate, said was essential for strengthening Taiwan's hand prior to any political negotiations.
"Nothing less than the future of one of Asia's most advanced democracies is at stake," Lynch said.
Comments will be moderated. Keep comments relevant to the article. Remarks containing abusive and obscene language, personal attacks of any kind or promotion will be removed and the user banned. Final decision will be at the discretion of the Taipei Times.