Block media merger, say academics
MONOPOLY FEARS: If an application by Want Want China Times to buy China Network systems gets the green light press freedom may suffer, academics say
Fearing the approval of an application by Want Want China Times Group to purchase China Network Systems would turn the former into a "media monster" monopoly, academics held a press conference yesterday to urge the National Communications Commission (NCC) to block the acquisition.
On the eve of the second public hearing for the merger review today, academics said an Internet petition against the merger initiated by 54 academics had received the support of 78 civic groups and 2,136 individuals over six days.
Want Want China Broadband already has major newspapers, magazines, publishing firms and cable and wireless TV news channels, National Taiwan University associate professor Hung Chen-ling (洪貞玲) said, adding that if the merger with CNS was approved, a multiple system operator that operates 11 cable TV and broadband Internet services would account for about 30 percent of the total media audience in Taiwan.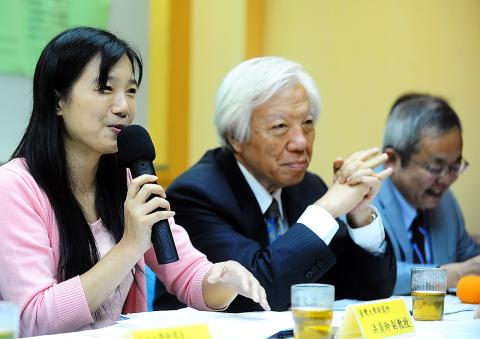 Hung Chen-ling, associate professor at National Taiwan University's Graduate Institute of Journalism, speaks at a press conference held by a group of academics yesterday to urge the National Communications Commission to block the acquisition by Want Want China Times Group's of China Network Systems.
Photo: Wang Yi-sung, Taipei Times
Hung said academics feared the NT$70 billion (US$2.3 billion) merger attempt by the group — which has a track record of "bad behavior" for accusing NCC commissioners in its newspaper and filing suits on reporters — risked leading to high media concentration, harming freedom of the press.
Shih Jun-ji (施俊吉), a research fellow at Academia Sinica's Institute of Social Science, said it made no sense to continue the review when three of the seven review committee members had already walked out.
"With only four members left, the committee is not competent to review this important case," Shih said.
The academics urged the commission to stop the review process and establish an ad hoc committee including citizen representatives and specialists from various fields to investigate the case.
Hu Yuan-hui (胡元輝), an associate professor at National Chung Cheng University's department of communications and president of the Foundation for Excellent Journalism, said that many studies showed that high media concentration undermines the quality of the media environment, not only in terms of lack of content diversity but also independence and the labor conditions of journalists.
Lin Yuan-huei (林元輝), a professor at National Chengchi University's department of journalism, said studies have shown that the China Times has provided much more entertainment news about Want Want group's cable channels since the last merger.
The academics said they also feared that with a large proportion of Want Want Group chairman Tsai Eng-ming's (蔡衍明) profits being made in China, there was reason to suspect that messages favorable toward the Chinese government would affect media content in Taiwan.
"Having control over the channels also means control over their content," Shih said, adding that the merger could affect as many as 4 million viewers if it were allowed to proceed.
Some academics also expressed support for the media to monitor government officials and political figures to protect the public interest. They criticized Chinese Nationalist Party (KMT) caucus whip Hsieh Kuo-liang's (謝國樑) lawsuit against Internet news source New Talk reporter Lin Chau-yi (林朝億) for reporting that Hsieh had tried to pressure the commission into approving the merger.
Association of Taiwan Journalists executive committee member Liu Ming-tang (劉明堂) said it was improper for legislators to file lawsuits against ordinary citizens to express their discontent.
Comments will be moderated. Keep comments relevant to the article. Remarks containing abusive and obscene language, personal attacks of any kind or promotion will be removed and the user banned. Final decision will be at the discretion of the Taipei Times.