Taiwanese florist rose from a street stall to 'Oscars'
Cheng Hsiu-wei (鄭秀煒), who began a career in floral design by selling flowers as a street vendor, won a gold medal at the Chelsea Flower Show for outstanding floral design on May 24 in London. Now she says she hopes one day to decorate Buckingham Palace with orchids from Taiwan.
"This is not only a dream. Dreams come true when they are heartfelt," she said.
Cheng began selling earrings, necklaces and nail polish at a street stall after graduating from college.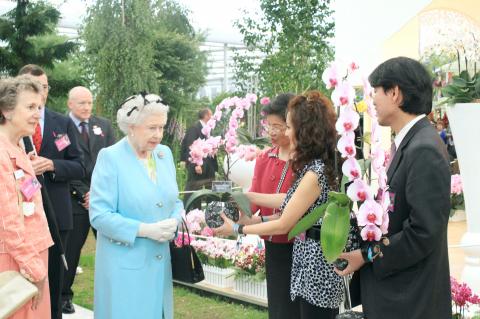 Cheng Hsiu-wei, second right, and representative to the UK Chang Hsiao-yue, third right, present Queen Elizabeth with an orchid in this undated photo.
Photo courtesy of Cheng Hsiu-wei
After she was married, Cheng and her husband opened a flower stall by their home in Chungli, Taoyuan County, with a start-up cost of less than NT$3,000.
After earning some money, they opened a flower shop, but business was slow. She decided to close the store and moved all of her flowers outside for a final sale.
At one point a Buddhist nun went through her store and told her: "Flowers make people happy. Selling flowers could bring good fortune."
After that, Cheng changed her mind and decided to keep the store open.
However, Cheng altered her business strategy after studying floral design with the aim of turning flowers into stylish works of art.
"I studied floral design in Germany and Switzerland, and often watched flower shows in Japan, the US and European countries. Over a decade, I invested more than NT$10 million [US$347,000] in learning floral design," she said.
However, her floral designs did not prove popular in Taiwan. Traditionally, Taiwanese like to decorate weddings with red flowers, which represent good fortune. On one occasion, clients were so upset that she added white lilium formosanum to red roses that they plucked them out.
Most clients did not like her designs and her husband recommended that she limit herself to selling flowers, while providing simple arrangements free of charge.
Refusing to give up, Cheng began to explain her design ideas to her clients.
"Because of my insistence, my floral designs gained acceptance with a growing number of people," she said.
The Chelsea Flower Show is seen as the Oscars of floral design, she said, adding that this was the only flower show officially visited by Queen Elizabeth II.
Cheng made her first entry at the Chelsea Flower Show competition last year, where she won a silver medal.
"We were not as well prepared in 2010, given the limited amount of time we had to plan and design our display," she said.
"This year we chose to use 100 different orchids in the pavilion," she said, adding that the display resembled a church filled with 4,000 orchids, from 100 different varieties.
The hard work finally paid off, Cheng said.
Comments will be moderated. Keep comments relevant to the article. Remarks containing abusive and obscene language, personal attacks of any kind or promotion will be removed and the user banned. Final decision will be at the discretion of the Taipei Times.