Street popular for wedding photos
HOT SPOT: Fujin Street, with its wooded park and charming cafes, has long attracted camera crews for films and TV series, and, increasingly, young couples
With hundreds of trees in its community park, Taipei's Fujin Street has become a popular spot to take wedding portraits.
Cheng Yu-mei (鄭玉梅), a borough chief in Songshan District (松山), has lived in the neighborhood for 30 years. She remembers seeing camera crews from TV series and films shoot in the community, with an average of one to two groups per week.
She said she noticed a significant increase in the number of couples taking their wedding portraits in Singchung Park (新中公園), a phenomenon she attributed to media coverage of the park and the popularity of the TV dramas filmed there.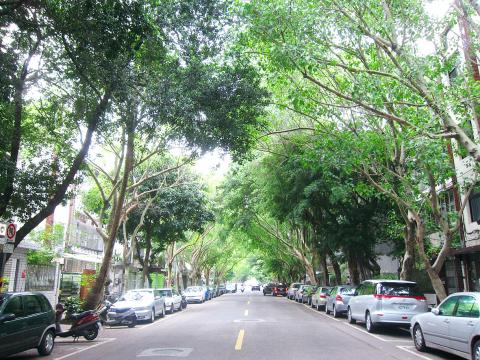 Fujin Street in Taipei is shown yesterday. The street's lush greenery has made it a popular destination for couples to have their wedding photographs taken.
Photo: Lin Hsiang-mei, Taipei Times
However, she called for the preservation of the park, because film crews often trample the grass and leave piles of garbage behind.
Cheng said most couples preferred to take their wedding photographs on the street, with the trees in the park as a backdrop.
They are also fond of -shooting at some of the charming cafes in the neighborhood, including Daughter's Cafe and Cafe Ballet.
The former was used as the setting for the Taiwanese movie Taipei Exchanges.
Cheng said the community had been active in creating a green environment for many years. Aside from planting banyan, bodhi and some other trees on the sides of the street as well as in the park, the community has also been diligent in trimming those trees, she said.
Ding Chen-ru (丁宸如), a wedding portrait service provider, said the street drew the attention of couples for wedding pictures because of its charm.
"The couples and the photos will all look beautiful if the settings they choose to be in are exquisite," Ding said, adding that the ideal locations should not be too far from the city.
Other popular places to take wedding photos include Tatung University, Taipei Botanical Garden and Taipei Water Park, Ding said.
Chou Tai-feng (周台鳳), director of the Taipei Wedding -Photography Business Association, said some couples specify the locations where they want the pictures to be taken.
For those who have no particular preference, wedding photographers can help them locate the ideal spots, she said.
Some couples choose to have their wedding photos taken at the location where they first met, Chou said.
More people like to have their wedding taken at motels, where the rooms can be decorated in different themes and the couples can engage in roleplay, she said.
Comments will be moderated. Keep comments relevant to the article. Remarks containing abusive and obscene language, personal attacks of any kind or promotion will be removed and the user banned. Final decision will be at the discretion of the Taipei Times.