JAPAN DISASTER: DOH urges public not to take iodine capsules
The Department of Health (DOH) yesterday urged the public not to take potassium iodide (KI) pills without doctors' instructions, as the nation is currently not under threat of over-exposure to radiation from Japan and the pills could cause side effects.
Since a series of explosions and fears of meltdowns rocked Japan's Fukushima Dai-ichi nuclear power plant, the country has been under heightened alert to detect whether radiation levels are normal.
Worries that radioactive dust from Japan's Fukushima Prefecture could be blown to Taiwan has prompted some people to prepare iodine pills or tablets, which contain potassium iodide and can protect the thyroid gland from harmful effects after exposure to radiation.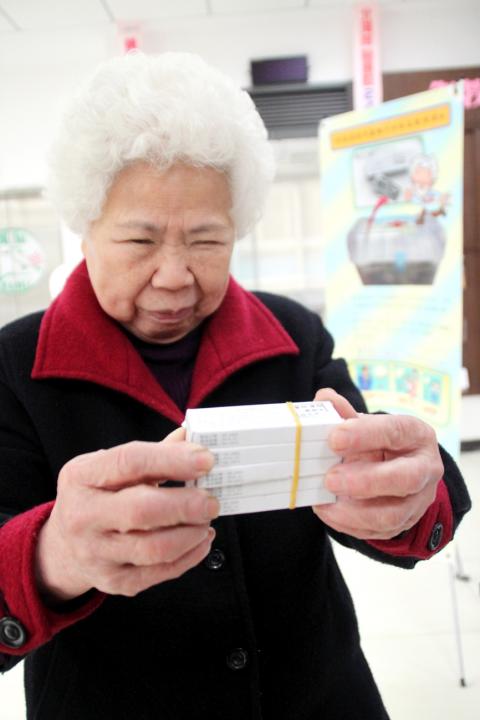 A woman examines iodine pills, intended as protection from any potential radiation from Japan, at a pharmacy in New Taipei City yesterday. Health officials have said that using iodine pills without a doctor's prescription is currently unnecessary, and could lead to adverse side effects.
Photo: Lu Hsien-hsiu, Taipei Times
However, the department's Food and Drug Administration (FDA) yesterday urged the public not to panic, because the country is not currently under threat from radiation levels that would pose problems to health.
Health officials said that consumption of iodine pills without a doctor's prescription or when not under a state of radiation emergency is not only unnecessary, but could also put one at risk of possible side effects from the tablet. These side effects include skin rashes, swollen salivary glands, a metallic taste in the mouth, a sense of burning in the mouth and throat, soreness in the teeth and gums, stomach discomfort and diarrhea.
The DOH said that even if the country were under threat of radiation exposure, the DOH said the public should not worry about supply shortages as there was a stockpile of imported KI pills sufficient for 130,000 people and the DOH can issue temporary production licenses to local pharmaceutical companies to meet domestic demand during emergencies.
It is illegal to purchase KI pills over the Internet and they can only be distributed through government authorities, an FDA division director said, adding that interministerial meetings and evaluations must take place before the decision is made to provide the public with KI.
ADDITIONAL REPORTING BY CNA
Comments will be moderated. Keep comments relevant to the article. Remarks containing abusive and obscene language, personal attacks of any kind or promotion will be removed and the user banned. Final decision will be at the discretion of the Taipei Times.