2010 ELECTIONS: Prosecutors say no suit against altered Hu video
HU'S GIRLS: Jason Hu's office had threatened to file suit, but prosecutors said it wasn't clear if the producers of the video spoof had broken the law
Taichung prosecutors yesterday said that as no law appeared to have been broken, they had not launched an investigation into the posting of a spoof version of a campaign video that portrayed twin sisters — volunteers for Taichung Mayor Jason Hu's (胡志強) re-election bid — as girls working in a well-known hostess bar in Taichung.
The Taichung District Prosecutors Office said in a press statement that so far no lawsuit had been filed over the matter. Furthermore, as prosecutors were still not clear whether the content of the video spoof, which was spread on the Internet, violated any law, they had not launched a formal investigation.
The twins — Chen Pei-yu (陳珮瑜) and Chen Pei-han (陳珮涵) — said the short video, which was produced with friends, was intended to encourage young people to vote for Hu.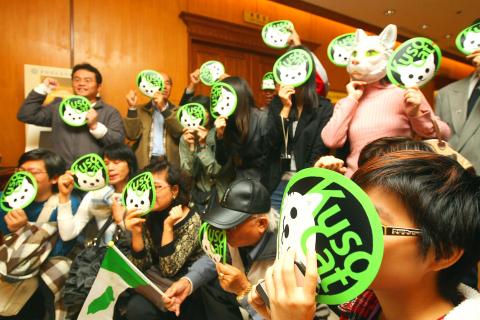 People gather in Taipei yesterday to express their support for freedom of expression in the case of a netizen called "Kuso Cat," who posted a spoof version of a campaign video for Taichung Mayor Jason Hu on YouTube.
PHOTO: WANG YI-SUNG, TAIPEI TIMES
In the video, which is available on Hu's campaign Web site, the twins, accompanied by Hu and other girls, are seen dancing and singing.
A spoof version of the clip available on the popular YouTube Web site portrayed the young women as working as hostesses at a nightclub in Taichung.
In the altered version, footage of the twins is played alongside video of the club and hostesses, with voiceovers claiming the women offer sex services to customers.
Although Hu's camp had said it would consider filing a lawsuit against the makers of the altered video, it has yet to take any action.
Comments will be moderated. Keep comments relevant to the article. Remarks containing abusive and obscene language, personal attacks of any kind or promotion will be removed and the user banned. Final decision will be at the discretion of the Taipei Times.