ECFA not a country-to-country agreement, Ma says
President Ma Ying-jeou (馬英九) yesterday said the Economic Cooperation Framework Agreement (ECFA) recently signed with Beijing was not an international agreement because the relations between Taiwan and China are not those of two countries.
"We do not recognize China as a state, so our relationship with each other is not one of country-to-country," he said.
"Cross-strait agreements are not international treaties signed between two countries, but they are very similar," Ma added.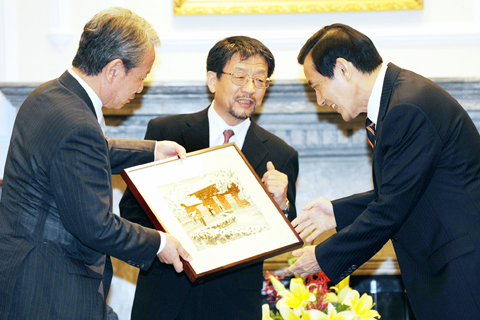 President Ma Ying-jeou, right, receives a gift from a visiting Japanese academic at the Presidential Office yesterday, when he met academics from the University of Tokyo specializing in cross-strait affairs.
PHOTO: CNA
Ma made the remarks while meeting Japanese academics specializing in cross-strait affairs from the University of Tokyo at the Presidential Office yesterday.
Ma said his administration signed the trade deal based on the needs of the nation, public support and following legislative oversight.
On the legislative oversight, Ma said Premier Wu Den-yih (吳敦義) would report to the legislature, which would review the agreement clause by clause.
The accord must be voted on in its entirety and the legislature could attach a rider to the agreement if necessary, he added.
Once the agreement clears the legislature, Ma said it would come into effect within six months, during which the two sides will begin negotiations on trade in goods and services, investment protection and dispute settlement.
Ma said he expected future cross-strait negotiations to be more challenging and that his administration would be under more pressure.
"This is just the beginning," he said.
Facing Beijing's increasing pressure for military and political negotiations, Ma said he would not negotiate unification with China during his presidency. Nor would he pursue de jure independence or favor settling cross-strait disputes through military means.
Ma said he understood the ECFA was no panacea and that there were risks involved, but the government could minimize the risks and maximize opportunities.
Amid opposition concerns that the administration has compromised Taiwan's sovereignty during cross-strait negotiations, Ma said Taipei and Beijing have signed 14 agreements and none of them indicated his administration made any political trade-offs or promises.
Comments will be moderated. Keep comments relevant to the article. Remarks containing abusive and obscene language, personal attacks of any kind or promotion will be removed and the user banned. Final decision will be at the discretion of the Taipei Times.