A-Mei strikes early at Golden Melody Awards
Big-name stars, serious musicians and the music glitterati gathered at Taipei Arena (台北巨蛋) last night to attend the 21st Golden Melody Awards (金曲獎).
Billed as the most important award in the Chinese-language music world, the annual event gives out music awards to professionals making music in Mandarin, Taiwanese, Hakka and Taiwan's Aboriginal languages.
This year, 124 nominees in a total of 24 categories were drawn from 10,464 entries by a 71-member panel of judges after three rounds of jury meetings.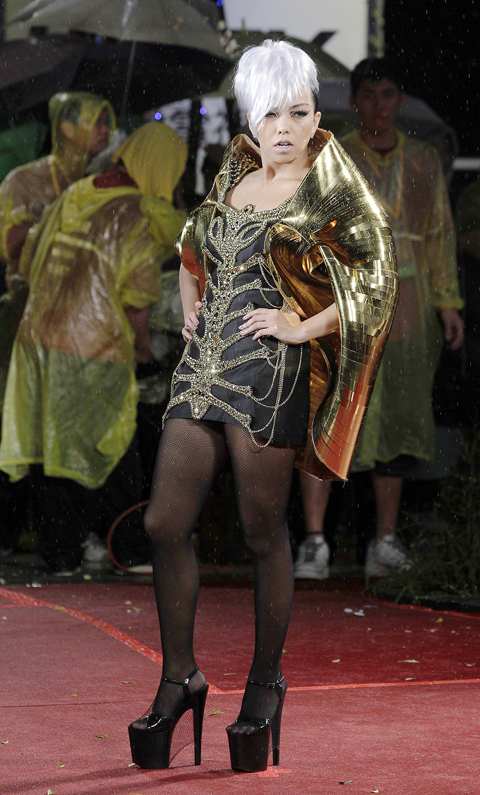 Chang Hui-mei, also known as "A-Mei," arrives on the red carpet at the 21st Golden Melody Awards in Taipei yesterday.
PHOTO: REUTERS
A-MEI, A-MIT
A-mei's (張惠妹) new A-Mit (阿密特) persona, A-MIT (阿密特 — 張惠妹意識專輯), garnered 10 nominations this year and picked up awards in the Best Lyricist and Best Composer categories early last night.
Amis musician Chalaw Karu and his band Passiwali walked away with Best Aboriginal-­language Album for The Old Old Car (老老車), which draws musical elements from reggae, conga and bossa nova.
Visually impaired Taiwanese musician Ricky Hsiao (蕭煌奇) took his second trophy in the Best Taiwanese Male Singer category. Another two-time winner is Tseng Hsin-mei (曾心梅), who took the Best Taiwanese Female Singer award.
BEST SINGING GROUP
The Best Singing Group award went to three-piece hip-hop outfit Daximen (大囍門), that beat out contenders including acoustic singer-songwriter duo Katncandix2 (棉花糖) and veteran Aboriginal band Power Station (動力火車).
In the hotly contested Best Hakka Singer category, seasoned jazz songstress Emily Guan (官靈芝) was awarded for her highly acclaimed rendition of traditional Hakka tunes in The Swinging You (頭?p) album. Young songstress Yachun Asta Tzeng (曾雅君) beat out veteran Ayu Huang (黃連煜) and Hakka rapper Tai Shih-yao (戴士堯) to pick up the top honor in the Best Hakka Album category for her eponymous album.
Six-piece jazz ensemble SiZhuKong (絲竹空爵士樂團) took top honors in both Best Instrumental Album and Best Instrumental Album Producer categories for its Paper Eagle (紙鳶) album.
SPECIAL CONTRIBUTION
The recipient of this year's Special Contribution Award was Taiwanese musician Hung Yi-feng (洪一峰), who died of pancreatic cancer in February at the age of 83. Known as the "king of Formosan song" (寶島歌王), the highly esteemed Hung sprang to superstardom in the 1960s after writing timeless Taiwanese ballads that included Memories of an Old Love (舊情綿綿), The One I'm Missing (思慕的人) and Twilight on the Tamsui River (淡水暮色).
Anticipated awards such as Best Mandarin Album, Best Mandarin Male and Female awards had yet to be announced as of press time.
For more coverage of the Golden Melody Awards, see Pop Stop on Page 13 of tomorrow's edition of the Taipei Times tomorrow.
Comments will be moderated. Keep comments relevant to the article. Remarks containing abusive and obscene language, personal attacks of any kind or promotion will be removed and the user banned. Final decision will be at the discretion of the Taipei Times.